by Hope
This is a more personal update versus money related.  Please skip and come back tomorrow for my debt update if not interested.
This past weekend was CRAZY!  First Princess played in a day long tournament in a city 2.5 hours away on Saturday.  We got home about 7:30pm Saturday.
Then Gymnast competed in his last regular season gymnastics meet. States is in two weeks.  I was exhausted by the time we got home last night at 11pm.
But I wanted to share some video clips of this latest meet.  This is his 6th year competing. His first year with a new team. And he competes as a Level 7 gymnast.
Gymnast Competes
He placed 1st All Around and either 1st or 2nd on all six events. He amazes me! I hope this gives you a glimpse into why I am committed to continuing to facilitate his training.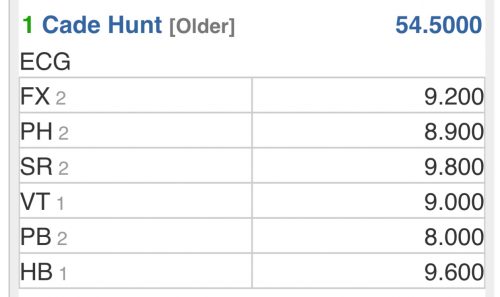 The Cheering Section
This meet was made even more special when four of our extended family members showed up to cheer him on! There were four generations of family there with us.  It was awesome!