by Ashley
I love this time of year because it always seems to be jam-packed with free things that we can do together as a family! Our area hosts monthly movies in the park, live music in the park, fall festivals, and more!
This weekend we took the girls to do something I've been wanting to do with them since they were babies….I took them to compete in their first race!
I love running. It's my therapy of choice (False. I actually go to "real" therapy, too. But you know what I mean). I do compete in some races – typically one or two per year – but otherwise most of my running activities are nearly free because I already own plenty of running attire and it's totally free just to run around outside in the neighborhood and/or on neighborhood trails! I figure it's much cheaper than a monthly gym membership and I enjoy being outside much more than pounding out miles on the dreadmill (oops, I meant treadmill).
This weekend was the TMC Get Moving race series. I have serious history with this particular race. It was my first EVER 5K run nearly a decade ago. It was also my first post-baby half-marathon (my second half-marathon overall). It's a very family-friendly race and this year we decided to "compete" in the FitKidz Family 1-mile run. Best of all, it was 100% FREE!
We registered the kids so they had official race bibs and received kid t-shirts. Parents were permitted to join kids on the course (also free), but no shirts or bibs for us. 🙂
The race was so well done, I was quite impressed! Hubs and I did the divide and conquer approach: he stayed with one kid and I stayed with the other. I didn't think they'd finish the whole mile but, to my surprise, they both ran the entire way! I was so impressed and proud of their hard work (though to be fair – there's no way the course was an entire mile. I didn't map it on my Fitbit, but I'd guess it was closer to .6 or .7 of a mile. Either way, it was perfect for kids!)
At the finish line, all kids received a finishers ribbon and were treated to snacks (bags of chips or pretzels, water bottles, and eegees < a Tucson thing kind of like a slush/snow cone hybrid). They also had a big bounce house set up and a clown doing face paint and balloon animals. And again – all 100% free! I was seriously shocked at the number of amenities for this event! (Note: the race series also included a 5k and half-marathon as well < not free).
Hubs and I split up during the mile race because one child was naturally running a little faster than the other. I stuck with the leader and hubs stayed behind. The smile on my kids' face as everyone cheered her on toward the finish line was absolutely priceless! I was running with her (and going much faster than I'd thought she was capable!!! I was impressed!), so I wasn't able to get a picture of her, but after finishing we stood together at the finish line to cheer on Dad and sis. The smile on her face says it all. Proud mom moment here, folks!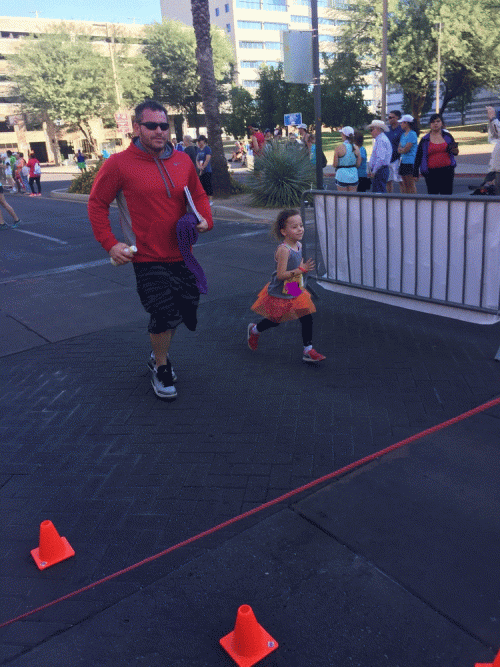 Running is such a passion of mine, so it's extra exciting to be able to share it with my kiddos! We will definitely be looking into this race again in the future! Most of the fun runs I've seen are not free, so the fact that this is offered (and so well organized! plus so many amenities!) totally free is a real perk!
Plus, look at these smiles! You can tell how proud they are of themselves! I love the confidence-building aspect of the race!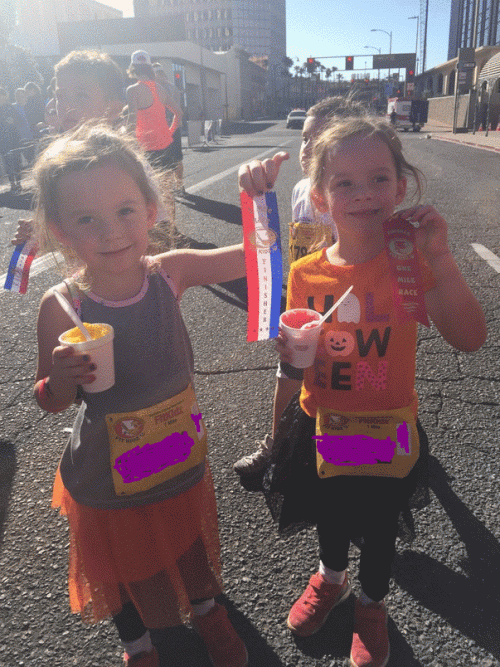 And a good weekend was had by all! 😉
What kinds of free Fall events are offered in your area? Do you have any annual favorites you look forward to?