Hi all! Sorry for the long hiatus! I've missed this site and am glad to announce that I'll be staying and continuing to blog here under our new blog ownership! Hope you haven't gotten sick of me yet! 😉
It's been awhile! I plan to do a little "coffee chat" update post soon. But I wanted to jump right back in to talk about some of the things I noticed while we've been moving in the wrong direction with our debt. The summer months were rough on our budget and our finances. It was the first time in my 3+ years of blogging here that we've gone in the WRONG direction with our debt. Yep, it's increased.
I'll be posting some numbers soon. A whole "starting over" series to come. But in the meantime, I wanted to share some thoughts I've had these past couple months as our debt has started to slip the wrong direction.
I've never seen so many credit card offers in my life. It's smart, I guess. But it appears that all the credit agencies in the world were tipped off (or following credit reports) and have pounced the second that they realized we've accumulated a little bit of debt (meaning, we're now paying interest to credit card entities instead of paying cards off in full at the end of the month). Seeing the opportunity to make some cash, every company and their mother has been sending me mailers with credit card offers. Kind of creepy, really. And sneaky, too.
"Don't forget about us" cards. My rarely used/unusued credit cards started showing up in the mail, too. They were sent along with different credit offers, cash advance checks, etc. The new cards were sent even though the old ones haven't expired. It feels a little predatory, in my opinion.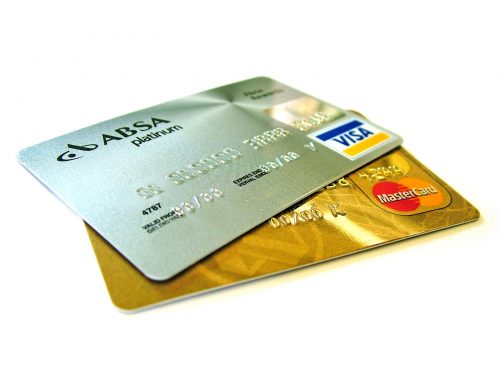 These credit-lending places sure JUMP at the chance to capitalize on our increasing debt load! They've got a business to run and all, but it sure feels a little grimy. Leaves a bit of a dirty taste in my mouth.
Meanwhile, we haven't had a penny of credit card debt in over 3 years (since we paid off the Bank of America card back in June 2014). Here we are, now September 2017. We have a significantly higher household income than we did back in 2014; back when I swore we would absolutely never ever go back into credit card debt again.
How did this happen? How did we get here?
It's all a little overwhelming. It's also frustrating and disappointing. But here we are.
I'm not a quitter. I don't plan to give up. Instead, I think this little detour just goest to show that not everyone's debt-eradication path is in a straight line. We're fighting the good fight and it's full of curves, ups and downs, unexpected issues, etc. We're normal.
I hope you'll stick around and continue to cheer me on as I dig deep and re-commit to finally – once and for all – getting out of debt for good!!!
PS: Stay safe out there for all affected by the horrific storms/earthquakes/etc impacting our world right now!