by Ashley
Just last month I told you guys that we'd completed 2 out of our 4 2015 goals on our Year of Becoming an Adult list. Here's where we stand now:
Wills: Completed a couple months ago.
Life insurance for hubs: I'd mentioned in my last update about hubs losing a bunch of weight (50 lbs, to be exact!!!) He still wants to lose about another 20, but decided to go ahead an initiate the life insurance process now. I remember it taking two or three months last time around (not a quick process), so hopefully by getting the ball rolling now he'll be able to be insured before the end of the calendar year. And, just to show you how far he's come, check out this incredible before/after photo comparison (note: I forced him to do this –he'd be embarrassed to do a mirror selfie himself; I also forced him to wear the same shirt for comparison purposes. The difference is incredible, right?!?! So proud of him!!!).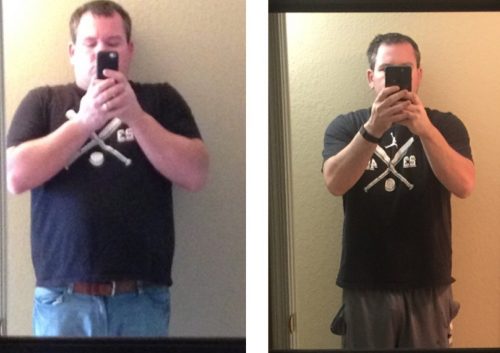 Open retirement accounts: We opened a Roth IRA back in April, and I also started funding an additional account through my work (a 401a) in July. I'm investing 10% of my paycheck into the 401(a) + my 7% employer match, plus still doing the $100/month toward the Roth (I know its not much, but better than nothing!)
Open college savings accounts for the kids: I finally did it! I opened two 529s (one for each child) and have set up an auto-deposit of $25/month for each of them (a total of $50/month). Once we're further along in the debt-payoff process we may increase contributions a bit, but I'm happy with where they're at for now. It's not much, but every little bit helps.
It's been a crazy whirlwind of a year! Some serious happy times and some serious lows have been had. And in the last few months as I've transitioned back into full-time work I feel like I've let a lot of these "household" type tasks fall to the wayside as I've been trying to balance my work obligations and father caretaker tasks.  I've alluded to this without outright saying it, but I've taken over 100% of my father's financial matters. Since he owns two separate properties, it feels like I'm essentially running THREE households myself. Hubs and I still have our budget meetings so its not like he doesn't contribute to our household, but I'm still the person who balances the YNAB budget and physically pays the bills. It's been a lot to take on, but I'm of course happy to help my Dad and just trying to stay on top of everything. I'm eternally grateful for the accountability I've received here!!! I've always done Excel budget spreadsheets, but I don't think I was as uber-careful about where every single penny was being spent until I started blogging here (and, really, YNAB has been a life-changer in that regard. Check out my review if you're interested.) Without the organization I've gained since I started blogging here, managing 3 separate household budgets would be really tricky. I mean, its tricky either way, but it's certainly much easier being organized.
At any rate, in spite of the haze that this year has been (can't believe its already mid-October! Where is 2015 going!?), I'm really glad to have now solidly accomplished 3 of our 4 "Year of Becoming an Adult" goals and that we're well on the way to completing the fourth as well.
Now….if we can just squeeze in some debt payoff milestones we'll be set! ; )
Have you ever tried YNAB? What did you think?
Do you do goals or resolutions for the year? How are you doing on your 2015 goals?