by Ashley
I started my new job in the middle of July. Until then, I haven't had a job where I've needed to have a professional wardrobe since my kids were infants. My last in-person job was when I taught at the community college two days a week the semester after my daughters were born. I taught starting approximately 1.5 months post-partum through 6ish months post-partum. Then I moved to teaching all online.
I give you the post-partum timeframe to put some things in perspective. Basically, I need a full new work-appropriate wardrobe.
My pre-baby wardrobe was much smaller than I am now. I still have all the clothes stored away in the hopes that one day they'll again fit (because, really, are work-pants going to go out of style???) I REALLY want to get back to that size someday, but I just haven't been able to make it a priority lately.
Meanwhile, I also had to purchase clothing to fit my barely post-partum body when I was teaching the semester after giving birth. However, I was working much less (2 days a week instead of my current 5 days per week), AND I've successfully lost weight since that time, so I'm kind of between wardrobe sizes. Smaller than my immediate post-partum body, but larger than my pre-pregnancy body.
I did buy a nice interview suit that fits well and I've got two nice dress shirts that fit well. Back in July I mentioned that I bought a second pair of work pants (so I've got two pair:  grey and navy), and a work-appropriate dress.
So although I've got some bare-minimums to get by, I definitely need to start slowly adding to my work wardrobe.
This is fun because I really haven't clothing in the past 18 months that I've been blogging here. I think I've bought one pair of capris (after mending a hole in the crotch of my previous capris TWICE), but that's really all that comes tome mind. I've just been making do with the same clothes I've had for years.
So I'm trying to have some restraint and only buying a couple of pieces per month (my goal is to stay under $100), buying quality pieces that should last a long time.
I wanted to share my most recent purchase with you – moreso because I wanted to show off how long I've made my old item last!!!
Enter:  SHOES!
I did buy a nice pair of heels when I was interviewing, but they're not really practical for classroom teaching. They look nice, but they're extremely uncomfortable. When I wore them for the full day on my not-an-interview trip, I literally (LITERALLY) had nerve damage to my toes. I couldn't feel them at all for nearly a week after the trip! I thought it might be permanent but the feeling eventually returned. Anyway, I've worn them a couple times on my non-teaching days (since I'm mostly sitting), but I really wanted some nice, professional, comfortable shoes that I can wear while I'm teaching.  Spoiler alert:  I found some good ones at DSW for $40!  But that's not the point of this brag-post. The point is to showcase the OLD shoes that I'm replacing….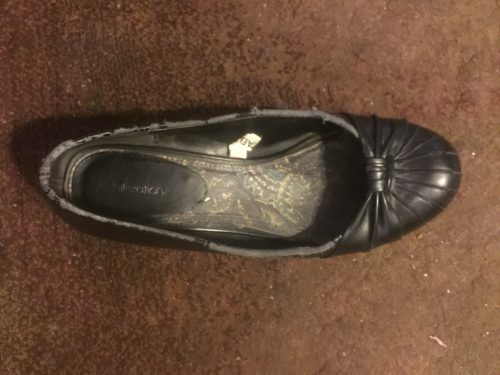 Check 'em out in all their scuffed up, worn seam, faded black glory!
I've made these babies last for YEARS! Wanna know what's even better? They were free! Yep! I got these as a hand-me-down from my sister. They were already a little worn by that point (the sole comes out of the inside and has to be replace/readjusted all the time), but that didn't bother me and I was happy to have them! Fast forward many more years (5? 6?) and they're still going strong. BUT they certainly don't look professional at this point. I know "it's not the shoe that makes the (wo)man" and all….but this is just laughable. Check out some more views of this shoe!
So, as you can see, they've had a good, long life. I'm proud that I made them last for so long, but I'm also glad to let a new pair of shoes join the family! With any luck, I'll be able to make them last just as long!
In terms of clothing purchases…
This month I bought shoes and a third nice dress shirt (side note: I should mention that I still wear some of my old immediately post-partum shirts, so I have more than 3 shirts total. It's just that many of them are old/worn out/too big. I make them work for now, but I do hope to update my wardrobe. Just wanted to clarify that I'm not re-wearing the same 3 shirts all the time; I just mean that I've got 3 nice/new/fitted shirts). Next month I hope to find a pair of nice black slacks (so funny as those tend to be the FIRST staple in a work wardrobe and yet so far my only pants are grey and navy! Also – side note:  those really are the only 2 pairs of pants that currently fit. My post-partum wardrobe was mostly maternity pants – yikes! – and I have one surviving khaki pair of pants but the zipper is busted on it. It was a cheap pair anyway, so I don't know that it's even worth paying someone to sew in a new zipper).
If I've got money leftover after buying black work pants, I might try to snag another work shirt or possibly a work-appropriate skirt. I'm trying to buy nicer pieces (no more cotton maxi skirts), so they tend to be a little more expensive, but they also tend to last longer than the cheaper alternatives. Like I said, I'm putting a max limit of $100/month and just seeing what I can get. : )
Fun times ahead as I'm finally allowing myself to shop a little!
When you're in debt-reduction mode have you cut clothing from your budget?  What is your current monthly budget for clothes?