by Matt
Thank you everybody for your thoughts on my emotional post from last week concerning what I felt I was lacking in my life while paying off debt (read it here). After all the comments and some thought, I've decided that starting in May, I'm revising my budget to reflect a few items:
1) I want to send my sister a small gift every month to help out their young family- I'm thinking a $25 gift card to Baby's R Us. I'm going to contribute $25 a month into a 529 plan for my nephew.
2) $50-$100 in misc money to use if and when I want to go have some fun with friends, family and/or GF. Looking for some input on this one- too high/too little?
I'm still fighting an internal battle between paying off my student loans as fast as humanly possible and not alienating everybody in life while I do so, so I'm hoping this is a stepping stone to finding a balance between the 2 options. To be completely honest- it's a little unnerving to see my my debt reduction schedule slip a couple a months, but it should all be worth it after it's all said and done. And for some more honestly- I never thought I'd see myself in this position. After years of reading debt blogs, I've been determined to do what so many seem to struggle to do (cut theirs expenses) that I swung all the way to the opposite side of the spectrum that I'm hurting myself in much different ways than financial. Like so many said last week- I need to find balance, and this is my (attempt at a) solution to it.
Edit (Because I just thought of this story): This isn't actually the most determined I've been to get out of debt. Back in September, despite already working 50-55 hours a week, I sent out a bunch of resumes for part-time work. I got an interview to deliver pizzas at night and on weekends for a local pizzeria. I was upfront with them and told them I was only looking for a job to help get out of debt while I worked full-time. Thankfully (THANKFULLY!) I never got a call back. I stopped pursuing part-time work after this interview. I couldn't imagine how out of balance my work/life situation would be had I worked part-time over the winter. Two words come to mind- not. good.
There's something I want to do that are not budget related- I want to start talking with my friends and family more. I've been in rut for some years while paying off debt that I would love to get out of, hopefully completely out of, by time I'm debt free. A lot of you told me to give my time vs. going out and I thought that was a great idea, and that is what I'm going to strive to do, a little bit at a time. There's quite a few people I haven't touched base with in years, so it's going to take some effort and patience as I don't see this being an overnight deal.
Also on the subject of what I will be starting in May:
I'm going to re-start my contributions into my companies 401K plan!
I have my sights set on 4% of my income which will allow me to get the maximum match (they match .5% for every 1% up to 2%). Even though I'm not currently in the company plan, the company gives 2% in profit sharing to every employee regardless of their contribution status. I don't feel right about missing out on the 4% I could be saving and the 2% in match now that I'm passed the 50% marker in debt payoff.
In my day-to-day life:
On Monday 3/30, my girlfriend turned the big 2-7!!! So…this meant birthday plans and birthday gifts.
Taking a page from her handbook from my birthday celebration (see here), I made a goody bag of all her favorite things and I baked her a cake! I NEVER bake, and as you can see by the results, the effort was there, but the skill, unfortunately, was not. LOL.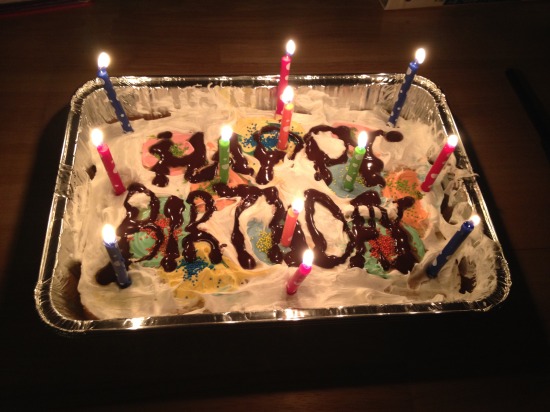 But I have to say- she loved it! Maybe not the cake, so much, but the time and effort I put in to making it. And she also loved her goody bag, which was filled with things I've remembered over the years that she loves: grape tomatoes, Tim Horton's gift card ($5), a gift card for pop at the corner store ($5), salted popcorn, salsa, various varieties of salt. Overall, it cost me about $70, including the all the ingredients to make the cake (which were also in her bag). I also gave her a bunch of "love" coupons- for back rubs, uninterrupted naps, a night in with a movie of her choice, etc… which was her favorite part of the day! In previous years, I've bought flowers, chocolates, spa gift certificates as birthday gifts but this year I got the best response. I'm so glad I was able to make her birthday really special this year.
As for my debt reduction update, here are my current tallies:
| Loan Name | Interest Rate | Original Balance- May '09 | Current Balance | Total Paid Off |
| --- | --- | --- | --- | --- |
| Sallie Mae 01 | 5.25 | $27,837.24 | $24,224.78 | $3,612.46 |
| Sallie Mae 02 | 4.75 | $22,197.02 | $19,006.27 | $3,190.75 |
| Sallie Mae 03 | 7.75 | $20,692.10 | $0.00 | $20,692.10 |
| Sallie Mae 04 | 5.75 | $10,350.18 | $7,570.60 | $2,779.58 |
| Sallie Mae 05 | 5.25 | $6,096.03 | $3,192.92 | $2,903.11 |
| Sallie Mae 06 and 07 | 4.75 | $6,415.09 | $0.00 | $6,415.09 |
| Sallie Mae- DOE 01 | 5.25 | $5,000.00 | $0.00 | $5,000.00 |
| Sallie Mae- DOE 02 | 5.25 | $3,000.00 | $0.00 | $3,000.00 |
| AES | 6.8 | $9,000.00 | $0.00 | $9,000.00 |
| TOTALS | | $110,587.66 | $53,994.57 | $56,593.09 |
Since my last update 2 weeks ago, I've been able to bring my total on Sallie Mae 05 down $1,100.
I hope everyone has a great week!