by Ashley
Let me tell you a little story about our dog, Rocky.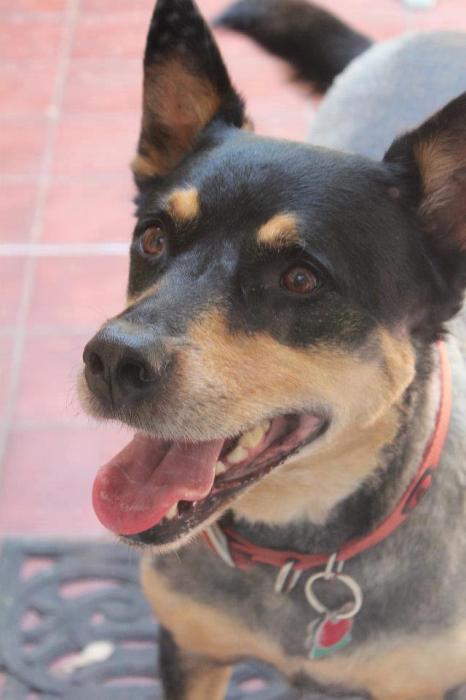 Rocky is an incredible dog. Well-behaved, intelligent, and loyal. One of the best.
But when he was a puppy he was T.E.R.R.I.B.L.E.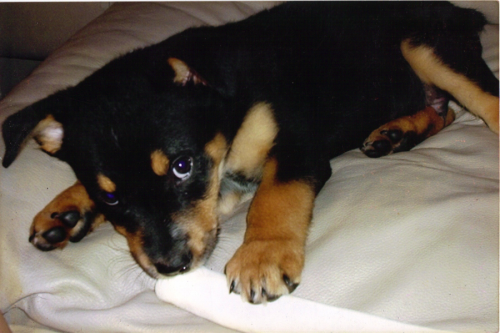 I distinctly remember at least 2 separate instances when I was this.close to taking him back to the pound (he was a rescue dog).
He got into everything! He had an insane amount of energy and regardless of how many walks, trips to the dog park, and hours spent playing fetch, he could never get it all out. He'd come inside and just destroy everything!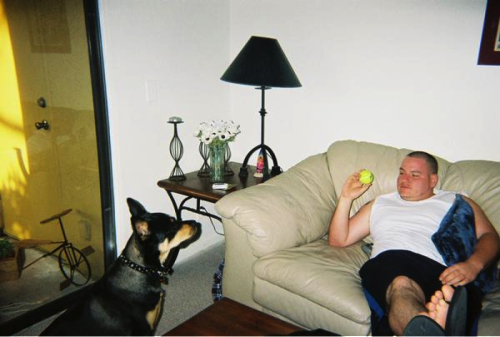 As a puppy he did all of the following things: (1) ate a hole through a wood door large enough to walk through, (2) ate an entire leather cushion from a couch, (3) ate through chicken wire, (3) ate a friend's hat, sunglasses, and shoes as the friend was sleeping on our couch.
This just scratches the surface. He was destructive. And he ate everything.
So one day we're at home and Rocky starts freaking out. He starts running in circles around our living room at lightening-speed. Then he stops, starts staggering side-to-side like he's drunk and about to fall down, then he goes right back to running (repeating the run-stagger cycle over and over).
Hubs (boyfriend at the time – this was 10 years ago) and I watched in shock of what was going on. Even for our high-energy Rocky boy, this was crazy behavior. Something was wrong.
At one of the staggering intervals, husband grabbed Rocky and scooped him up in his arms. We ran to the car and drove as fast as we could to the vet clinic just up the road. This was not our usual vet, but we had just moved and this was the closest vet to our new place. We knew we needed help fast.
Once there the vet got to work right away. She pumped his stomach, but didn't find anything too unusual (I say "too unusual" because she did find some t-shirt material and padding from our patio furniture – true story – but those items would not have caused his behavior). The vet, obviously an animal lover, was not kind to us. She basically accused us of having drugs lying around that he surely must have ingested. Absolutely not! We were not drug-doing type of people!
An overnight stay and several hundred dollars later, we were able to bring Rocky home. Never figured out what was wrong, but he ended up being okay.
Fast forward 2 weeks. We realized what Rocky must have gotten into.
I was in college at the time and it was finals week. I'd been having a lot of anxiety and my relative-to-remain-nameless (since I'm describing a felony and all) gave me a couple of Xanax pills. Obviously not prescribed to me. But my relative thought it would help me relax enough to do well on my exams (I had bad test anxiety at the time). I never did end up taking the pills. They were wadded up in a paper napkin and had been thrown on a kitchen counter. Eventually I forgot about them all together. Then the napkin disappeared (aka: Rocky got ahold of it), and I never even thought twice about it. It is not a usual thing for us to have drugs (prescription or illegal) lying around so it never even crossed my mind.
Apparently the vet was right. *cringe*
I tell this story to say that, since this time, being a responsible pet owner has been of the utmost importance to me. I'd thought we were responsible pet owners at that time, too, but obviously we hadn't shielded our eat-everything puppy from the dangers of some prescription pills that were lying casually on the kitchen counter.
And above the ramifications for the pets, themselves, responsible pet ownership pays off financially. Being responsible in this situation (i.e., putting the pills away in a safe place) would have prevented the hundreds of dollars we spent on emergency vet bills that day, not to mention the stress and heartache of thinking we were losing our beloved dog.
Pets can be expensive! But if you're going to be a pet owner, being a responsible one is important.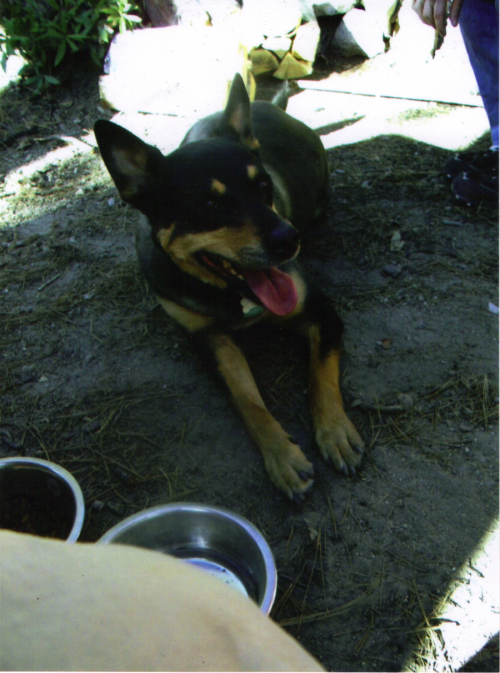 Have you had any scary pet crises? How much did the ordeal cost you?
Have you owned a rambunctious pet before? Our dog is THE BEST now, but those first 2 years of his life were pretty rough! ; )