by Stephannie
Being gazelle intense is something we are working on.  I'm finding that the harder I try to spend less money,  the more I creative I have to be.  I am so very excited about something I've come up with, ya'll!
I love makeup and beauty products.  I don't really know why, because I don't really wear a lot of makeup.  Be that as it may, I'm a sucker for new products and shiny packaging.  I've completely cut back on buying things that I don't need and I currently only use foundation, powder, a little blush and mascara.  I actually  tried, for a short time, to not wear makeup at all and there were a few comments made at work.  Not mean comments but things like " Are you ok?  You look like you don't feel well." Sooooo, I decided that maybe I should just use at least enough to look presentable.  For the most part the only things I have to purchase are foundation and mascara.  I have enough powder and blush to last me for a while.   That leads us to the point of this post.  The foundation I use is drugstore stuff that runs between $10-$13.  Ya'll, I have been pounding on the bottom of these bottles trying to use the very last drop so that I can put off buying more.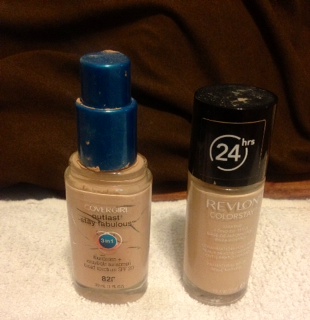 The first bottle has a pump so, I was able to kind of scrape the sides with it but with the second bottle I used the tried and true ketchup bottle method. I got to wondering what I could do to get more product out.  I know that you can buy a spatula thingy but all the ones I looked up were around $5 and I didn't want to spend money to save money.  Then, I got an idea.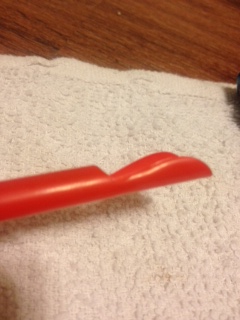 Slurpee straw!!!!  I stopped at a convenience store and I was going to buy a 99 cent slurpee but the machine wasn't working.  I told the cashier that all I wanted was a straw.  She looked at me like I was crazy but, she told me to take one.  Score!  It worked exactly like I hoped it would and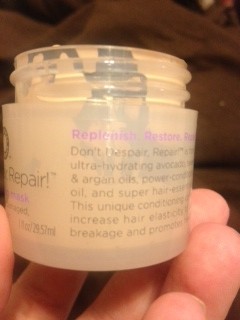 I filled almost half of this jar!!  It's a sample jar of hair mask and it holds 1 fluid oz. That seems crazy to me because the foundation bottles were 1 fluid oz. too.  I'm pretty proud of myself!  Do ya'll have any tips that help you use the very last drop of a product?