by Beks
My husband grinds his teeth in his sleep. If you've ever had the 'joy' of sharing a bed with a grinder, you know the noise can keep you up just as easily as snoring.
We purchased a $5 mouth guard from Walmart… which worked for about 2 days before it fell apart.
We purchased a custom mouth guard from the dentist at a whopping $350… which works a little, but still keeps me awake since it the sound he makes while wearing it resembles a dog chewing an annoying squeaky toy.
Since my husband is an aggressive teeth grinder, his mouth guard needs replacement every six months. I'm not looking forward to squeezing another $700 annually out of my budget.
I was watching Dr. Oz while getting ready for work a few mornings ago and he was discussing the dangers of teeth grinding and cheap solutions to fix it.
All he had to do was say 'cheap' and he had my attention. Since a few of my family members and friends are also teeth grinders, I figured maybe some of you might save a few bucks with his tips.
http://www.doctoroz.com/videos/1-habit-destroying-your-health
One of the tips is to relax your jaw by using a wine cork to stretch the muscles. Jazzed about the idea of preventing painful head and tooth aches, my husband carries a wine cork everywhere now.
This is what I found in the shower this morning…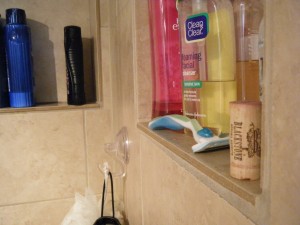 I may have trouble convincing folks he doesn't have a drinking problem when there are wine corks on the patio set, on his bedside table, near the television, in his truck, in his office, and in the shower. But hey, it has helped a little so I'll just have to deal with the questions about my husband's apparent 'alcoholism'.