by Beks
About a year and a half ago, my husband said, 'The shower pan is cracked and water is leaking. If we leave it, we will destroy our bathroom and mold will grow. I'm going to take out the bottom row of tiles, replace the shower pan, and replace the bottom row of tiles.'
I left to housesit for a co-worker and came home to …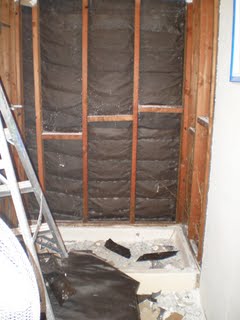 My husband explained that he had discovered mold under the floor and in the walls and decided to replace everything to be safe.
So why… why… why… did I assume that when we intended to insulate the separation closet wall in a 50 year old house, that we would simply be able to insulate the closet wall?
This is our spare bedroom as of today…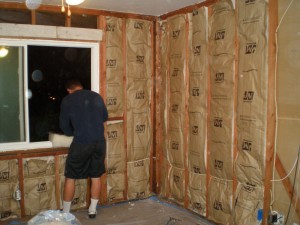 A few days ago, my husband asked if he could insulate all four walls. We both agreed that as long as we had one wall down, we should take down the remaining three walls, fix the electrical, and fix the phone line. Total tab so far? $142. I am so very thankful to be married to a talented construction man.
When making decisions like these, it's hard not to want to put it off until later or take the easy way out. What we constantly have to consider is: Is this going to cost more later if avoided?
My nearly $200 electric bill tells me… I should have done this two years ago.
The good news? Energy improvements, including insulation, are tax deductable. Yes!
Want more info? Go to: energystar.gov/taxcredits
you can get in touch with swipenclean.com if you need help with revamping your home space