by Tricia
This weekend was a very nice weekend weather-wise. Sure, it was pretty cold (near zero to low teens during the day), but the skies were clear and it was very sunny. Our animals were fighting over the sun shining in on our carpet. They both wanted to lay in it LOL.
Very early this morning (around 1am), I noticed a green glow in the sky. The Northern lights were out! We do see them often where we live, but this winter has been so snowy that cloud cover has been the "norm" at night. Not this morning. The sky was a clear as it could be and the stars were shining bright. It was a beautiful early morning because of that. The Northern lights display was the cherry on top.
For those of you who have not heard of the Northern lights (Aurora Borealis), here is a picture courtesy of AlaskaCpl.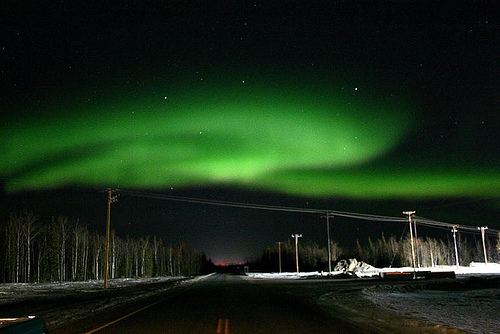 It's difficult for a picture to do the Northern lights justice. I think they are something you have to see in person to really take in the full beauty. The displays that I have witnessed have been green rays of light flowing and shimmering across the sky like a curtain waving in a breeze. They are dynamic and sometimes they disappear as quickly as they appear.
Since this is the first time we have seen them in a while, we had to wake up my son. My son can be very grumpy when we wake him up, but he was excited to go outside to see the lights. Unfortunately, the brightness did die down by the time we made it outside. It was also below zero at the time, so my son was anxious to get back inside after a few minutes.
I will miss these displays tremendously if we move from the area. When it comes to nature's beauty, we have so much. It takes my breath away sometimes.