by Tricia
I haven't posted in a while how our debt is spread out among our credit cards and my personal loan. As it stands right now, we have four total accounts and lately I have been thinking that it is too many. When I worked on our finances yesterday, I became worried when I thought I might have missed a credit card payment. I didn't end up missing it, but the constant fear is always there. I will probably be looking into a way to consolidate everything so I only have to worry about one payment.
Here's how things look as of today: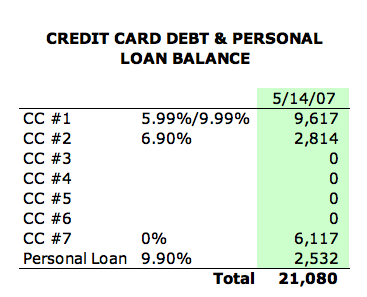 For Credit Card #1, there are two interest rates. There was a balance of around $1,000 at 9.99% before we completed a balance transfer of 5.99%. Since payments are applied to balance transfer balances first, we'll have to live with that smaller balance at $1,000 for quite a while. I can live with that, though.
For Credit Card #7, the 0% interest rate will be ending next month. I haven't received a really good offer in the mail for a balance transfer offer for another one of my cards. I did receive a pre-approved offer from a different credit card and I thought about possibly opening up yet another credit card, but I didn't do it before the pre-approved offer expired. That particular card has denied me two times in the past and I think I was hoping for a balance transfer offer from one of my existing cards.
It is getting close to where I probably should call all of the existing cards and see if they have any balance transfer offers that are not available online. Credit Card #7's interest rate will go up to 16%+ and that is not good. I really don't want to pay that much in interest.
Overall, it's great to see the numbers continue to go down, although things are moving very slowly lately with only paying a few dollars over the minimum amounts.