by Ashley
Remember the last time I talked about a Yelp event? It was in November and husband and I attended a fancy-pants charity event (for free, courtesy of Yelp) and called it our anniversary date.
Side note about Yelp: I'm a Yelp Elite member. This basically means I use yelp a lot (they measure your # of reviews, log-ins, likes, picture uploads, etc.). If you are an Elite member you get invited to all kinds of free yelp events – they have at least one or two per month. It's hard for me to go because you have to RSVP pretty far in advance, but then you aren't notified if you're "on the list" or not until 2 days before the event. This often precludes me from being able to go since I generally have to line up childcare farther in advance than that. But if you don't have kids and/or your kids are older or you have a last-minute sitter… Yelp events are where it's at. Lots of fun for free! They spoil us! All you have to do to become elite is join yelp (for free) and start becoming active on the website! Note, this is not a sponsored post in any way, just wanted to explain how I get to do these things for free.
Anyway…..
Have you guys seen these painting classes popping up all over the country? I've been wanting to try one for months! Seriously! When I was in Austin over Christmas I was begging my sister to go to one with me, but we just didn't have enough time to make it work out. I am SO glad that I held out because here we are in March, only a mere 3 months after Christmas time, and I got to do one of the painting classes FOR FREE!!! Score!!!
Typically these classes run about $40/class. They supply a canvas, paints, brushes, related supplies (like aprons, easel), and you show up ready to have a good time!
Since this was a Yelp Elite event, we also had food catered. We enjoyed all kinds of stuff from Rene's Organic Kitchen (a delicious eatery in Tucson) + drink tickets for drinks. This event also allowed a +1 on the RSVP, so I decided to bring a girlfriend. It meant I got some girl chat time, plus didn't have to pay a 'sitter since hubs could stay home with the kiddos.
And…..we had a blast! Here's what we made. It's called "Saguaro desert"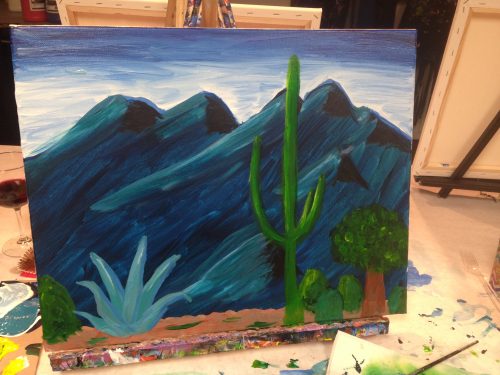 An artist, I am not. But I still think I did a pretty decent job. I mean, I'm impressed with how it came out considering my lack of artistic ability.
So here's my review of the art class in case you have any in your area and have been debating about going….
I had a great time. They did a fabulous job of walking us step-by-step through the painting process so we all came away with a work of art that actually looks pretty impressive! For real, hubs actually hung it on our wall.
One negative side of all the instruction is that there's barely a break for simple chit chat amongst friends. We really had to be paying attention to get all the steps right. I would have liked it if were a little more laid back with more chances for talking with our friends during the class (not just before/after class). That could be a function of our specific painting (maybe some are easier or have fewer steps?), or maybe just our instructor's style. The painting took about 60 minutes to complete in total.
Another negative is just the cost! $40 is kind of a lot for a night out if it doesn't even include any food/beverage (again, we got food/drink since this was a Yelp event, but with typical events you have to pay for the extras).
Do I think it's worth it? Would I go again?
Well, I would….but it'd have to be a special occasion. This type of event is "too rich for my blood" if its just a simple girls' night out. But if it were a special occasion (e.g., sister's birthday, christmas present), I might spring for the cost. It also depends on the place. I know the painting places in Austin are BYOB, which would be significantly cheaper than the studio in Tucson where the prices were $5/beverage (wine or beer).
So lots of "it depends" type responses. In the end, I'm really glad I was able to do this as its something I'd been eyeing for quite awhile. But I'm glad I got to do it for FREE! The bottom line matters these days, and you can't beat a bottom line of $0!
Have you ever done one of these painting classes? How much did you spend and did you think it was worth the cost?