by Jim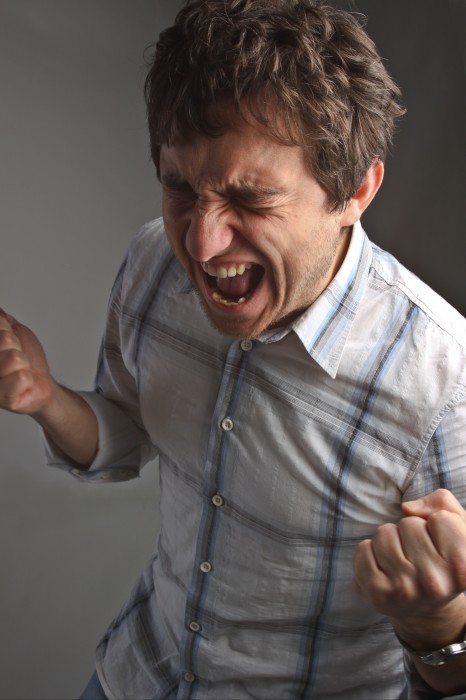 "Holding on to anger is like grasping a hot coal with the intent of throwing it at someone else; you are the one who gets burned." – Budda
We left off last week with what should have been the next to last post about my debt journey.  The final should have been doing the Dave Ramsey Shout that We're Debt Free.  Yes it was going to take us longer, since I decided to work for myself, but we would have gotten there eventually.  This was a mutual decision by both the wife and I.  We both knew that if I just got another job, that my dream of becoming an entrepreneur would probably never happen.  Plus the added bonus of being at home with my family was an added perk.
Well in March 2013, we started getting phone calls from Wells Fargo.  It started with one, then escalated to around six a day.  All stating one thing, that the mortgage payment has not been paid since September 2012.
Six months!  My wife's ex, hasn't paid in six months!  He gave us so many excuses, that we lost track of all the lies he told us.  We didn't have money for a lawyer and we didn't know what to do.  We tried to get advice before and our lawyer royally screwed us over.
Back then, she told us the best thing to do was to get an assumption.  Well come to find out the day of our court trial, this assumption would get my wife's name off the deed, but not the mortgage.  We had to throw the case out, as this wouldn't have been a good option for us.
In October of 2013, we find out that he is moving out of the house, and he was going to try to short sale it.  If you aren't keeping track of time, that is One year and one month of not paying the mortgage!  I know people don't want me calling this guy names and what not, but truly how can you do this?!?  How can you do this when you have a daughter to provide for?
He moved into a house he was renting out to some woman (a woman that was supposedly buying this property from him, and his profits were going to pay on the back payments of the house.)  This house was so tiny, you literally can walk three steps in the living room, and you are out of this room.  How were five people supposed to live in this house?
Later that month, we were served with papers that the house was going into foreclosure.  There was basically nothing we could do, so we decided to let it go.  And right around Christmas, we come to find out that this was all part of this guy's plan.  He approached us and said he has been in talks with the bank to get a loan modification.
In my opinion, we should have gave him the finger and told him you know what.  But my wife is the kinder of the two of us, she didn't want our daughter to be living in that tiny house.  So we ended up signing papers for this modification.  He is planning to move back in at the end of this month.  There is a three month trial period starting next month.
I am so sick of all this, it makes me stress to no end.  And we are seeing all the after effects of it all.  While he owns a house, co-owns this house, has 3 vans, two cars, and a RV (all of which were bought during the time he stopped paying on the mortgage.)  I am really at a lost of what to do…