by Ashley
I'm back home now, but I was out of town this week for a couple days at a conference up in Phoenix (I'll be talking more about it when I do my Week 4 spending report).
As I was packing my suitcase, I packed an outfit for which I wanted to wear a blue cardigan. But the last time I wore the cardigan I had noticed a small hole. I decided to bust out the old needle-and-thread to mend the hole before packing up.
It was kind of a pain – as soon as I'd mended one hole, I noticed ANOTHER hole. Both were right along a seam. So no sooner had I packed up the needle-and-thread, I had to bust it back out again. The holes were small so it didn't take too long. Here's my finished product: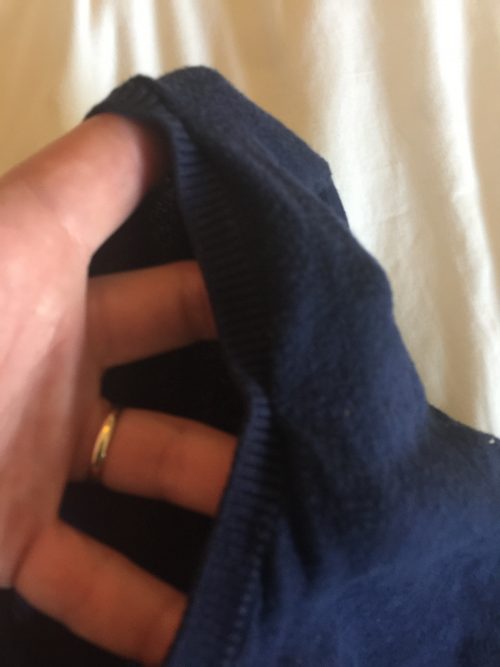 I was using a cheap Dollar Store needle-and-thread pack so I was a bit nervous how it would all turn out. The location and size of the holes made the mend look a little bit "pinched" right at the seam, and I had to use a dark forest green color thread because there wasn't a dark navy blue color. I wasn't thrilled with the finished product but didn't have time to go shopping (and don't have the budget!) so I decided it was good enough.
Luckily, when I got to the conference and actually got dressed in the outfit I'd selected, I felt like the cardigan was totally fine. Here's how it looks while being worn. You can't even see the little "pinched" places that I thought would be so noticeable!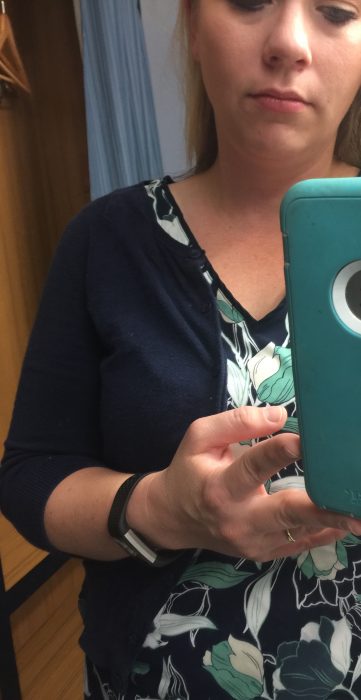 Perfection! I thought it worked out great and I was proud of myself for going with the thrifty option and saving money instead of running out and buying a new cardigan (which, as we all know, can all-to-quickly morph into a full new outfit, etc.)
I hope you have a great rest of your weekend! What's your latest saving-money "win"?
You may also want to read: