by Beks
My husband is a man's man. He's more comfortable with a hammer than a computer mouse. I oftentimes snicker when getting the mail and my copy of Smart Money is snuggled near his Family Handyman.
Obviously, our celebrations were VERY different.
Usually, we use side work money to pay debt. He comes home, hands me the check, and I pay the bills. After we made the last payment, he came home, started to hand me the check, looked down at it for a minute, and asked if he could use it for a special payoff surprise.
This was his surprise…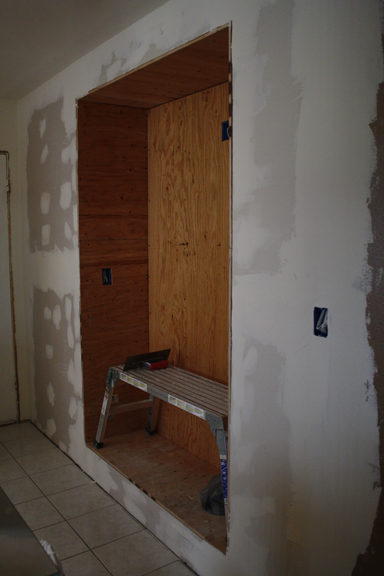 He's building a pantry with roll-out drawers! He cut a hole in the wall between our kitchen and garage to add some much-needed space to our tiny kitchen. How much did he spend? $100. Quite a deal considering he was able to use a lot of leftover materials from side work to piece it together.
When I told him I felt bad about him spending money on the kitchen rather than on something he really wanted, he assured me this was what he had in mind for quite some time.
That… and he's sick of me asking him to carry the heavy mixer from the linen closet in the back of the house to the kitchen whenever I need it.
Big smile on my face today. Big. Big. Smile.