by Ashley
As a reminder, this post style (the coffee date concept) was an idea I borrowed from the Fitnessista (with her knowledge and permission). If you're into fitness, check out her blog. She offers tons of FREE workout guides, videos, healthy recipes, and more. See my last coffee date post here.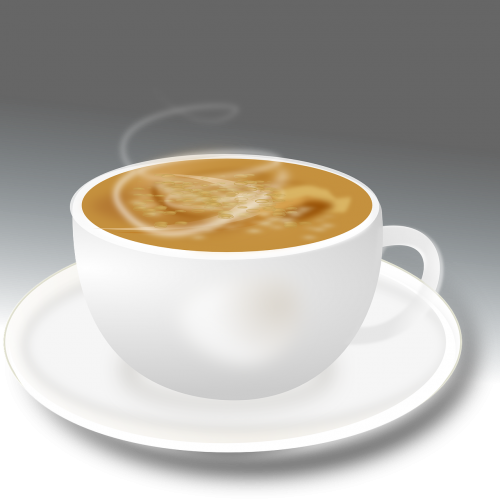 If we were having coffee right now….
I'd tell you all about the drama in mine and hubs' families right now. There's been a LOT. Hospitalization, rehabilitation (not the drug kind, the physical/health kind), threats of lawsuits, and icky job-related stuff. Nothing that directly impacts me or hubs and (knock on wood) things are going well with us, but these issues have been in the forefront of our minds as we've been having LOTS of phone calls home recently to discuss various issues.
I'd invite you and the kiddos to the zoo with us! We've been making great use of our family pass, going once a week for the past several weeks. The girls' favorite thing is to see the gibbons swinging around (and they now know the difference between a gibbon, monkey, and gorilla). A close second is seeing the peacocks (since they wander freely the girls always try to chase them), and feeding the giraffes! It's so fun to talk later all about what we saw and did.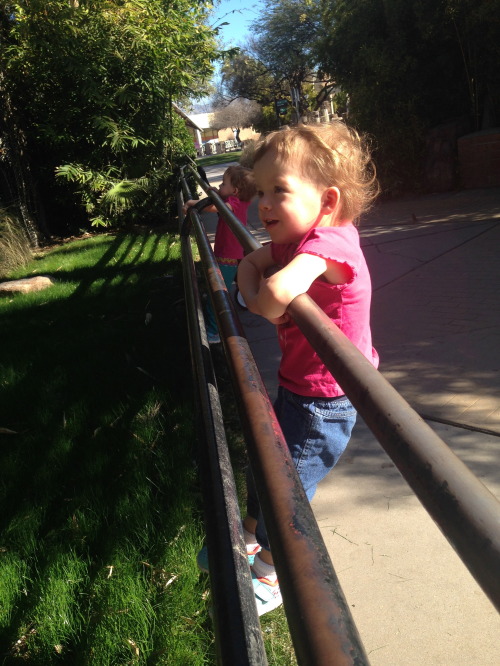 Intently watching the gibbons!
Speaking of doing stuff with the kids, I'd probably try to convince you to go camping with us in April! The town where we live hosts a big family camping night once per year and I really want to go this time. It's super cheap ($5 for a family of 4), and the town does a big-screen movie in the park, has a huge bonfire, does tent decorating prizes, has a storyteller, offers crafts, and lots more (all for just the $5 admission). Hubs and I used to be big campers pre-babies but haven't gone a single time since the girls were born. This would be our first family camping experience and I think it sounds like a lot of fun.
I'd have to tell you that I didn't get the job I recently interviewed for. They haven't sent an official rejection, but I was told the decision would be made the first week of February. Seeing as its now the last week of February…I think its safe to say I didn't get it. It's a big bummer, but not the end of the world.
Speaking of jobs, I'd tell you about my current employment situation. I've hinted at it before, but things went a little downhill with "University B" (the research job) at the end of last year. I got my last paychecks in January and haven't worked for them since. Things with "University A" (where I teach online) are still going well, though I've had some frustrating class experiences. The past 2 semesters in a row I've had a class cancelled due to low enrollment. That's not my employers' fault, but its super frustrating when I'm expecting "X" number of dollars from 3 classes, but then get downgraded to only 2 classes. Next semester I'm going to insist/beg/plead/whatever it takes to move up to 3 classes (even if it means changing up the classes I usually teach). I really do get paid very well from them (like…. literally twice as much as the local community college pays), but I need a third class to boost my income a little after my loss-of-income from University B.
If we were having coffee right now we'd probably be chasing the kids around the park and trying to keep them from hurting themselves. It'd be a coffee date and playdate rolled into one. I'd thank you for meeting me and hanging out on such a beautiful day (sorry to those of you in cold places….it's been in the mid-70s in Tucson). We should do this again soon!
If we were having a coffee date, what would you tell me?
PS: What do you think about the stock photo (of the coffee cup)? Trying to decide if I want to start sprinkling in additional photos to my posts. I'm a TERRIBLE photographer, so my own iphone-quality photos have been few and far between. But there are lots of free photos available through various websites that I can use (for free, duh!), but not sure if it would seem cheesy or if you guys like the pics to break up the text? Tell me what you think!