by Hope
We've been doing really well with eating through our freezer and pantry. I've made gumbo and tacos this week and each of those meals last two days. Recycling reheating leftovers for the win – our tacos became nachos the second night!
Last weekend, I took Gymnast to Walmart to finish up his Christmas shopping for Texas (his money). And while he shopped, I grabbed a few items I needed to round out this week's meals. And, as always, I checked out the clearance section. I love Walmart Clearance and they have at least 2 sections…one in grocery and one for household items.
This particular time, I was in grocery.
I picked up a couple of whole wheat pasta boxes for 50 cents each and a Pumpkin Spice coffee K-cup box for $4 (I am not a coffee drinker but I keep our Kcups stocked for my coffee drinking kids as it helps them save money. We keep a few of their favorite creamers along with teas, coffee, hot chocolate so there is something for everyone.)
Then I saw cake mixes. Now I don't know if I have mentioned how much my kids love to bake. I would say one or the other of them bakes at least 3 days a week. They typically take it to school to share in class or Princess used to sell brownies at school.
When I saw some cake mixes marked at $1.46 each, I thought I would grab a couple. Then a Walmart employee comes up behind me and says, "take those to the register, anything by that brand will ring up for $0.36 each." My jaw dropped. And I immediately started looking for an expiration date or something that would tell me what was wrong with them. When I asked her, she said they were Halloween items that didn't sell. Now you tell me, do these look like Halloween items?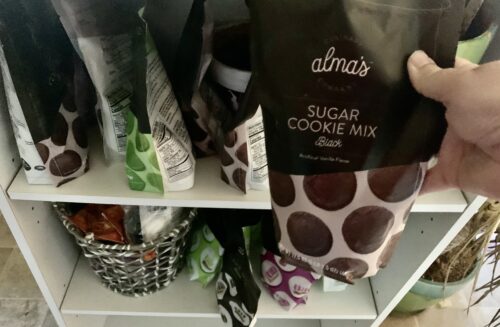 After a few minutes of hesitation, I loaded my cart up and proudly walked off to show Gymnast my score. I bought about 20 cake mixes, sugar cookie mixes and then 3 bags of sprinkles. The mixes are all different colors – orange, green, purple, black and teal. So I guess that's the Halloween part.
But I am super proud of this purchase. Didn't blow my very limited grocery budget at all. And these will last through the winter. Beauty made an orange cake that night with orange peel shavings and cream cheese frosting. It was beautiful and delicious, wish I had taken a picture.
$0.36 score! I'll take it!
I'm already looking forward to returning to the grocery clearance section after Thanksgiving. We will need to restock our freezer and pantry and I will start there. Lots of scratch and dent cans available and even some pasta sauces. (I didn't purchase any of these items this trip because I really am trying to eat through what we have and keep costs down this month.)