by Ashley
We have a long history of using homemade kid's crafts as a way to give gifts to friends or family in an affordable way, while still having a personal, meaningful touch.
This year, we decided to make some homemade Valentines for the kids' class. To be fair, we did still buy some Valentines because the twins are in the same preschool classroom so we didn't want to be giving identical/duplicate homemade gifts. But doing one fully homemade (and the other store-bought), we still saved 50% of the money!
Better yet, our craft used all things that we already owned so we didn't spend a single penny on any of these!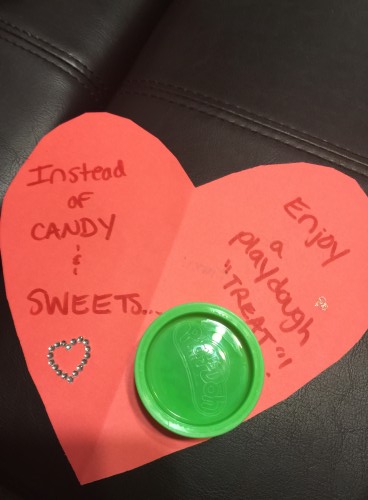 For Halloween we had bought a giant Costco-sized package of mini playdoughs to give out for kids who needed/wanted a non-candy treat. They ended up not being very popular among our trick-or-treaters (go figure! lol) so we still have a pretty good sized pile leftover. I decided to use those instead of a candy for the basis of our Valentine's Day "Card" to give to classmates (last year, one of our daughters came home and promptly threw up from the candy/sugar-overload, so I purposely emphasized non-candy treats this year).
I helped the girls to cut out the hearts. I wrote the message on the front and the girls signed their names on the back and decorated with heart-shaped stickers (every valentine was different and unique). Finally, I was able to fold over some tape to affix the playdough to the card. They're little mini-sized ones, so the tape held just fine.
I think my hand-writing could have been neater and we could have decorated a little better if we'd spent more time. But for 4-year-old Valentines, it's not half bad. ; )
If you want to check out last year's home-made Valentine's Card (+ a bonus homemade idea I "borrowed" from a classmate), check out this post.
Do you ever make homemade Valentine's for your kids' class exchanges? Have you seen any other good homemade Valentine's card ideas?