by Ashley
Happy August!
The kids are officially back to school and we've finally got our air back on!!!
In all, we were without A/C in 110+ degree weather for nearly 2 weeks. Thankfully, we've got our air back on (running at full throttle! lol) and doing great!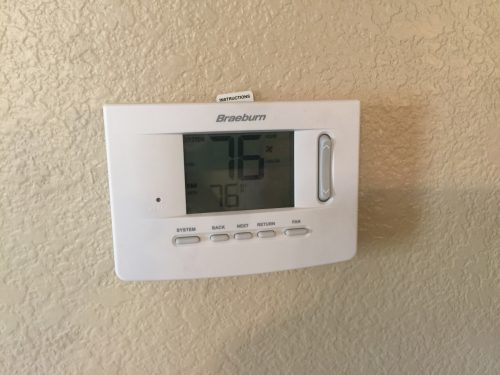 A/C Repair Costs
The "adventure" wasn't as costly as it could have been if we didn't have warranties on the parts, but it still cost a pretty penny.
A/C repair: $1200 (this was the cash discount price)
2 window A/C units: $250
Total: $1450
I didn't include the two nights in a hotel because my mom ended up graciously paying to cover those nights away. It was a great staycation and chance for a "time out" before developing a longer term game plan (with input from you guys – thanks for the recommendations to get window units!) I have another friend whose A/C went out at the same time and required a full replacement. She got hers fixed in 2 days (versus 2 weeks!!!), but she ended up spending $10,000!!!! Do they finance that stuff? If we'd had to do a total replacement I honestly do not know where we'd get the money?! We don't even have $10,000 of available credit on credit cards so it'd HAVE to be some type of financing situation, right?? Scary thought.
Surviving the Heat
To survive, we stayed out of the house for much of the days. The girls were in camp 3/week for the month of July (the month of June we had them home full-time). So we'd send them to camp and I'd go to work, or when they were home we'd all go to the library or the indoor mall play area, etc. etc. I tried to plan crock-pot meals, or I would cook first thing in the morning (while the house was still cooler) and then save everything in the fridge. At meal-times, I'd just re-heat in the microwave so I wouldn't heat up the entire kitchen. Food quality wasn't as great, but you do what you gotta do. It wasn't fun, but we survived.
Financial Evaluation
This whole situation has really put our finances front-and-center in the minds' eye. It's crazy that a $1450 situation had to be such a crisis (I mean…the heat played a role in seeing it as a "crisis", too). But only eighteen months ago, a $1450 problem would have only been an inconvenience, not a crisis. We really let things get away from us, financially speaking.
I'm spending some time today writing up a full August budget and figuring out ways to continue saving again. I've been putting savings on the back-burner in favor of paying more toward debt but what good is it when a crisis comes up and we have to use debt again to cover our butts because we have no cash on-hand??? It's a vicious cycle we've got to escape from.
What do you use and/or recommend for an Emergency Fund? I think I'd like to shoot for at least a thousand dollars in a dedicated EF, but I've also done separate savings in the past for specific things (e.g., semi-annual bills, car repairs/maintenance, etc.) and I'd like to do that too….. so maybe $1,000 in EF + other specific savings categories?