by Ashley
Since my kids have started back to school this Fall, I've really been working to try to streamline our mornings. Their start time is earlier than last year which is good for me, but makes our mornings hectic. I know I should've been doing this all along, but I've recently started preparing school lunches the night before. Back when I was working full-time + part-time, I'd be busy working in the evening for my part-time job so I rarely made lunches until in the morning before school. With our earlier mornings, now, we don't have that same luxury of extra time for food prep so I've been trying to find ways to save time by preparing things ahead of time as much as possible.
One example is that I've made a whole Snack Bin in our pantry. I like to buy things in bulk-size since it's cheaper (e.g., pretzels, veggie sticks, and Cheese-It's are all things I've bought in huge-sized packaging from Costco). But since we need individual-sized portions, I'll open the bag and divvy it up into smaller-sized packages. I have a plethora of Glad-ware, so I try to use those as much as possible since they're washable and re-usable. I also use ziplock snack-size bags sometimes as well. I take a few moments once per week to pre-portion our snacks and throw them in our Snack Bin so they're easy to grab and add to a lunch box and/or be used as part of the kids' morning snack.
Another example I borrowed (imitation is the sincerest form of flattery, yes?) from another blogger. I recently saw a youtube video (and then a blog post < linked here for credit) from fellow-blogger, Jordan. She talked about making her own meat-and-cheese sandwiches in bulk and then freezing them for school lunches. Genius, right? She swears the kids love them and since it's just meat-and-cheese it freezes and thaws out perfectly. No weirdness like you might get with lettuce or other additional ingredients.
Well, I had some lunch meat on its last leg anyway, so it either needed to be used or tossed out. What better use for it than to try Jordan's idea of make-ahead meat-and-cheese sandwiches?
I used a couple different bread options:  I already had some homemade rolls that also needed to be eaten or tossed (winning! I love that these "last leg" food items weren't wasted!), and I'd recently bought a long baguette from our grocery store that was only partially-used with dinner so lots leftover of it, too. I sliced everything up and added 2 thin slices of turkey lunchmeat and one slice of cheese (cut in half to fit).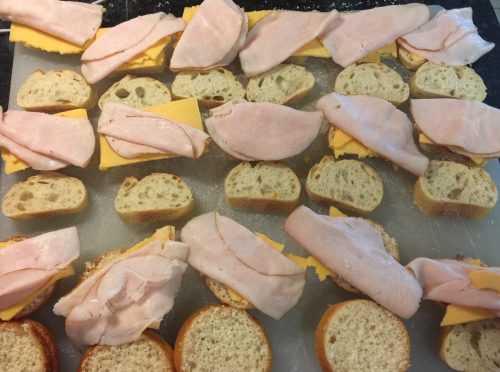 After the assembly line, I put everything into big gallon-sized ziplocks and put straight into the freezer. I'm crossing my fingers that this works out. I just barely made the sandwiches so we haven't tasted them yet. My kids can be picky, but I think they'll enjoy having a meat and cheese sandwich on some "fun" bread (instead of boring old "normal" sandwich bread). I always pack a variety of other things as well (e.g., fruit, veggie, a juice box or "treat" of some kind, etc.), so hopefully the frozen sandwiches will be a part of a well-balanced school lunch! Woohoo!!
If you've got kiddos, what do you do to streamline your mornings? Have you ever tried making lunches in bulk and freezing for later? Any other "Work Smarter, Not Harder" type of tips?