by Tricia
I realized I haven't provided this report in a while. I think with including a more detailed monthly spending report I forgot about this one. So, here's how my credit card debt stands as of the end of September, the end of October and present day. I included present day because a balance transfer was just completed a few days ago.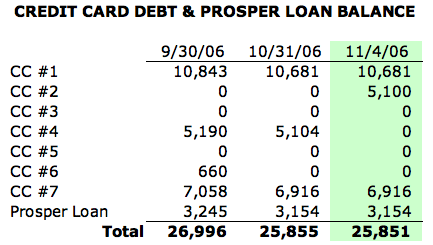 We now have 4 credit cards that are at a zero balance. Woohoo!!! Three more to go and a Prosper Loan.
NOTE TO MY PROSPER LENDERS THAT CHECK IN ON ME :):
If you remember my listing, I said that I wouldn't agressively pay off the Prosper Loan until I paid off CC#4. Since I transferred the $5,100 from CC#4 to CC#2, CC#4 is now technically "paid off." However, I just shifted the debt so I do not consider it paid off. I will now agressively pay off CC#2. Then, depending on how the interest rates are on the rest of my debt – I may or may not pay down the Prosper Loan next.