by Tricia
I never did locate the $22 receipt I was looking for. So, I decided to just put it to groceries. We do sometimes buy bulk food items from the department store and when we do it can run around $30.
Inspired by Flexo at Consumerism Commentary, I've added a new column to my monthly spending report for a comparison. He has a Year to Date Previous year and I decided to add a Same Month Previous Year (in green). I'm also contemplating putting income up there, but I'm not sure. I have to think about it a little bit more.
The current month is in yellow and in bold print. Things I found noteworthy for any of the time periods are in blue (notes are below the report).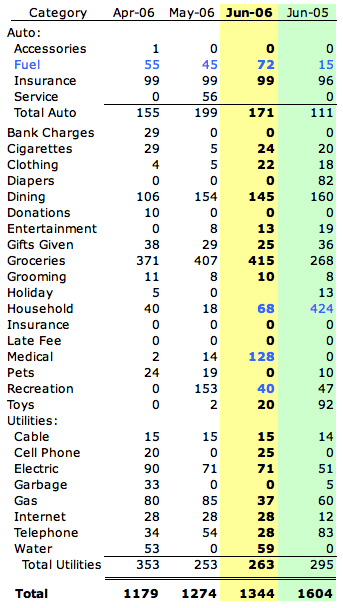 The money spent on Auto Fuel drastically rose in June. That is due to my husband and his friend going on rides and due to increased number of family outings to the beach. This will probably remain constant until winter (rides in the fall around here are just lovely and we like to do it as much as we can).
The Household spending was a little bit more than usual. I broke down and bought a nice phone for working at home. The previous phone was just a $10 model and I really wanted a phone with a mute button and a phone I could use a headset with. We decided on a dual set with an answering machine.
If you noticed in 2005, there was a lot of money spent for the Household in June. I saw that and I had to look into it. It didn't take long to realize that June of last year was when my in-laws visted. All of that money was used for decorating up the home and for extra bedding and some furniture. Gotta make everything look good for the relatives, right? Not anymore, because almost all of that spending went on the credit cards!!!
Unfortunately due to my medical visit, there is a good sized expense (compared to normal) in the Medical category. I have found an insurance plan that I believe is a good one, and once our car is paid off in September, that will free up funds to obtain health insurance ($259/month).
Recreation involved getting fishing licenses and plenty of bug spray 🙂
Overall, I am pleased with the month but I would like to see the spending on groceries and dining go down.
As always, any comments or questions are welcome.