by Hope
I mentioned earlier this month that I budget $150 to get Princess some winter clothes with the weather getting cold. On our drive back from Texas, we spent the night in Baton Rouge and ended up being across from a large mall on Black Friday evening.
After a day in the car and some hours to kill, we decided to hit the mall. And lo and behold, Princess' favorite clothing store Rue21 was having a sale and she hadn't spent any of her clothes money.
An hour later, she walked about with 1/2 new outfits for right at $80 – score!
Christmas Present on the Frugal Side
When I paid for the clothes I was informed we earned, 2 RueBucks. Which essentially means, if she shops again between December 26 and January 2, she can get $20 off her $40 purchase.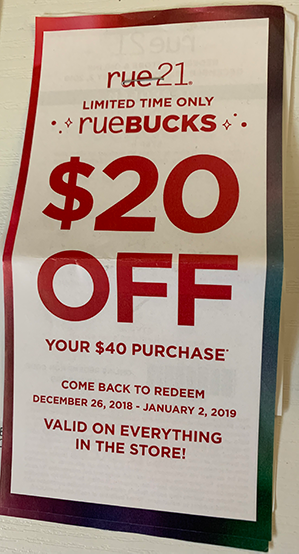 I got to thinking, I could buy her a gift card with $40 of the remaining clothes money I previously budgeted and then add these two RueBucks into her stocking, essentially giving her $20 extra dollars to spend. Is that a bad Christmas idea? To give someone something that is essentially is free.
I know she enjoys shopping at this store. She shops there every time she gets a chance (there is one an hour from us here in Northeast Georgia.)
I haven't created a budget for Christmas presents. I know I should. I have begun picking up little stuff and it was all inside our trip budget so I haven't used any extra money. But I really am focused on paying off debt and getting into a better financial place. I'm having a hard time balancing my desire to provide a Christmas for my three eldest and being as frugal as I have been the last few months.
Do you have a Christmas budget? How much do you spend on teenage children? I guess one of my challenges is that they don't really "need" anything and their wants are pretty expensive…new computer, etc. So I have to find a middle ground I am comfortable with. And it's not coming to me easily.