by Ashley
I have been having a particularly stressful day. Lots of "blah" stuff not worth going into.
And I open my email and see THIS in my inbox: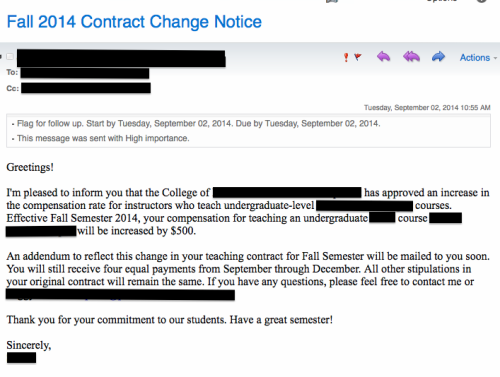 Can I just reiterate how much I love working with "University A" (teaching based job)!!! Not only are they saying that I'm getting a raise (totally unheard of for adjunct faculty! Who's even heard of this?!?), but they are retroactively dating it so that, even though I've already signed a contract agreement for the semester, they're going to go ahead and start the raise effective immediately!!
I teach two classes, so this is a raise of $1,000 for the semester (approximately an extra $250/month). Not too shabby! If I continue teaching at a rate of 2 classes per semester (3 semesters: Fall, Summer, Spring), then this equates to an extra $3,000 per year. I'll take it! : )
I needed this little ray of sunshine today!
Hope you're all having a good Tuesday!
Seriously, though (I know many readers are in academia) – has anyone even heard of raises being given to adjuncts??? I've been teaching for 7 years (4 different institutions) and never once received a raise! This does not happen!!