For those of our American friends, are you all ready for the big Thanksgiving holiday? Whats on the menu at your houses?
We're going very low-key this year. Typically, we either go to someone's house or we have family or friends over to ours. This year it's just the 4 of us and we're planning to enjoy some sleeping in, possible naps (children willing), family walks, and just general laziness. Sounds glorious to me!
To keep costs low, our Thanksgiving dinner is going to be pretty minimal. Last year (yes – an entire YEAR ago) I got a BOGO turkey, but we only cooked one. I've had the second turkey in the freezer for an entire YEAR. I'd always intended to cook it at some point, but there was really never a reason to cook an entire huge turkey. Sooooo, I busted it out and it's been thawing in the fridge the past couple days. No cost incurred there.
For sides we're doing green beans (fresh – not the canned/casserole-type dish), homemade rolls, mashed potatoes and gravy, and stuffing. Lots of carbs (isn't that how it always goes with Turkey Day?), but not a lot of volume. In the past we've always had the potato struggle (mashed vs. sweet), but last year I realized that I was the only person who even ate the sweet potato casserole! As much as I love it, it's a LOT of work and if no one else even enjoys it, I don't want to do it just for myself.
Since we're only cooking for 4, we didn't have to go out and buy a ton of food. And the foods we're having are extremely cheap (homemade rolls – dough is basically free since we have flour, yeast, etc. on-hand; potatoes were super cheap at the store for mashed potatoes; stuffing is also super cheap; etc.)
When I was first planning our meal, I asked the girls what they wanted for Thanksgiving. Funny little kiddos, the first thing they said was, "CENTERPIECES!" No, silly – I meant food! But they had a point. They've read story books and seen cartoons and all Thanksgivings seem to be characterized by these big, elaborate, gorgeous displays on the center of the table. The problem is, we don't have the money to be splurging on table centerpieces or unnecessary decorations. So I did a little google search for "Free DIY Thanksgiving Centerpieces" and got a ton of fun and cute ideas (PS: I found this fun free printable with kids' activities for Thanksgiving day that I'm planning to do with the kids, too!)
In the end, I picked to have the kiddos do a Thankful Turkey. I loved that they came up with things they are thankful for and it allowed them to practice their penmanship by writing their own thankful lists (with help from mom & dad with dictating the spelling). It was pretty funny and cute to see some of the things they came up with (e.g., "Thankful for MYSELF" got a good chuckle). I just love spending the holidays with our kiddos – as they grow, it truly becomes more and more fun!!!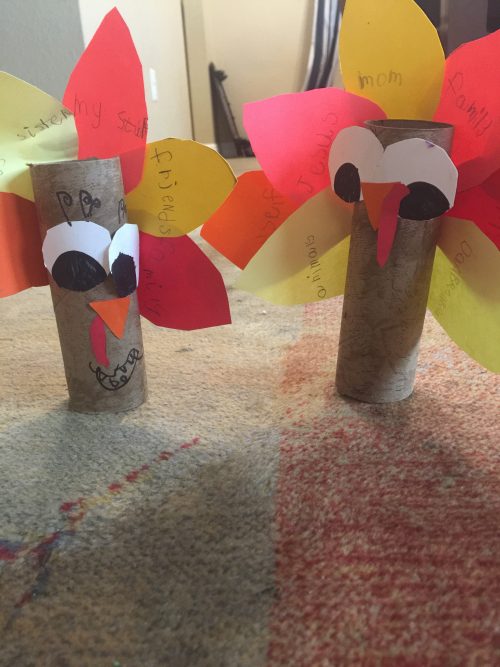 So for anyone else out there looking for cheap/free last-minute Thanksgiving Centerpiece ideas, I wanted to share ours. All supplies were things we already had on-hand so it cost us $0 to make, plus it was some fun family time and a great opportunity to share the different things we're thankful for in our lives.
From our family to yours, have a safe and happy Thanksgiving!