by Ashley
Hi all!
Anyone out braving the Black Friday crowds today trying to score great deals?
We haven't even taken a look at any of the Black Friday specials. We're kind of "phoning it in" for Christmas this year. We really don't have any money to be out-and-about shopping. Plus, we already know what our parents are getting for the kiddos and they're BIG gifts!!! Bikes from my mom and a motorized car from hubs' mom, so we're just going to do little necessities (e.g., new socks) and minimal other stuff (e.g., stocking stuffers) and call it a day. The girls are going to be so spoiled from their grandparents that they really don't need anything extra from us.
So instead of going out shopping, we decided to do something special on this Black Friday. We decided to do an "experience" gift.
Black Friday Frugal Fun Challenge:
We decided to each take one kid so they could have special one-on-one time with us. So we had to think of two *separate* experiences.
We wanted to do something special we've never done before – not just taking them to the park or mall play area/normal stuff.
We set a maximum price tag of $25 per pair ($25 for Mom & daughter; $25 for Dad & daughter).
I jumped online to check out pricing for my idea and it totally paid off!!! I wanted to take my kid to Funtasticks. It's a little local place with putt-putt golf, bumper boats, kids' carnival-style rides, race cars, etc. After checking out the website, I discovered they were having a 50% off sale for 2-hour wristbands. Instead of $20.99 each, I only spent $20.99 total (+ tax)!!! The trick was that the sale was ONLY advertised online. There was no mention of it anywhere on-site and they were still ringing up wristbands at full price, so you had to ask to get the special rate. Again – it pays to check out sales and coupons online (I just saved a ton on my brakes that way, too!)
We had an absolute blast! It was 2 hours of unlimited outdoor adventures! We used every single second and took advantage of the slow day (almost no lines anywhere! We practically had the park to ourselves!)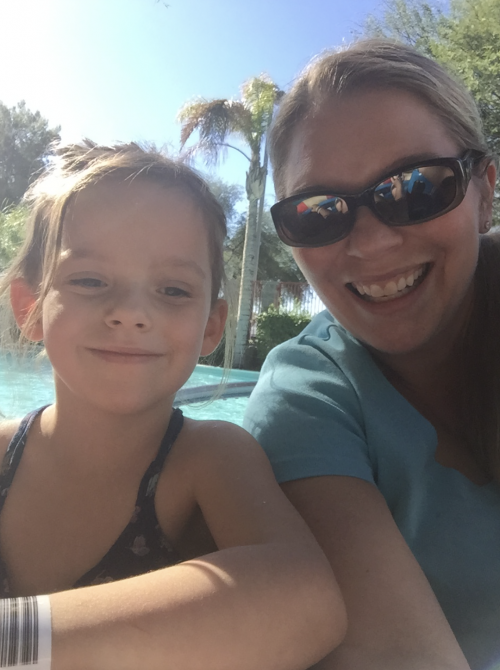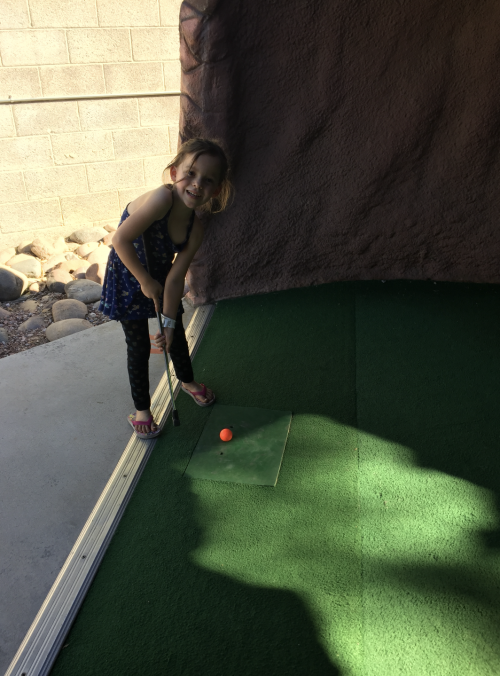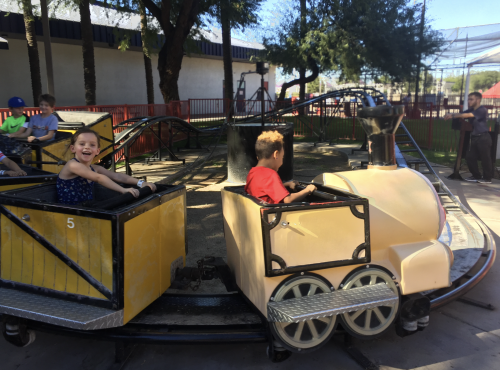 Notice the spaghetti straps! It's still in the upper 80's here in sunny Tucson! We're breaking heat-records from the 1890s with our current temps! But on the plus side, it makes outdoor fun all-the-more appealing!
It was so fun!
And don't feel sorry for sister! She and Dad found a pottery place in the mall and spent their time crafting!
All-in-all, it's been a great Black Friday! We spent time together as a family in the morning pulling out some Christmas decorations, ate leftover Thanksgiving sandwiches for lunch (one of my favorite parts of turkey day!), and spent the afternoon having some special one-on-one time with our kids.
How have you spent your Friday? Any great Black Friday finds?