by Ashley
After a rocky start to the school year (and a teacher who was replaced a month into the year), we LOVE our new teacher. But I was a little nervous when she texted the class parents at 4:30pm yesterday to say she needed 5 volunteers for a Halloween party today. The volunteers would also need to bring an activity to do for the whole class, supplies and all. Yikes!
I wanted to volunteer because I was planning to work from home today anyway and one of the perks of my job is its flexibility to do things like this! I wish I'd had a little more notice so I could've planned a really cool activity, but I set to the interwebs ASAP to find a kids' craft that is: 1) age appropriate for 5-year-olds, 2) quick, & 3) cheap! Since I'd be providing the supplies I couldn't get crazy with anything too elaborate or pricey!
Luckily, I found some cute little q-tip skeletons that fit all 3 criteria.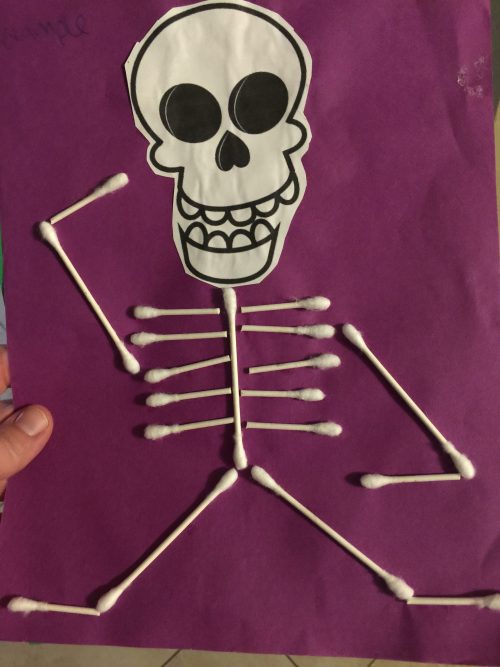 I was able to raid our craft bin for the glue bottles, scissors, and construction paper. I found a free printable for skeleton heads (see here) and printed enough for the whole class. I already had some q-tips on hand, but not enough for the whole class, so I did a quick Target run and bough the cheap store-brand q-tips for a whopping $2.77 (for a 500-count). Can't get much cheaper than that!
I had so much fun getting to go volunteer in the class! It's my first time of the school year and I had an absolute blast getting to hang out with my kiddos and meet many of their friends. The kids had several different craft options to choose from, but our skeletons were a big hit (truth be told: I think the kids just wanted to play with the glue bottles because they're typically only allowed to use glue sticks. lol)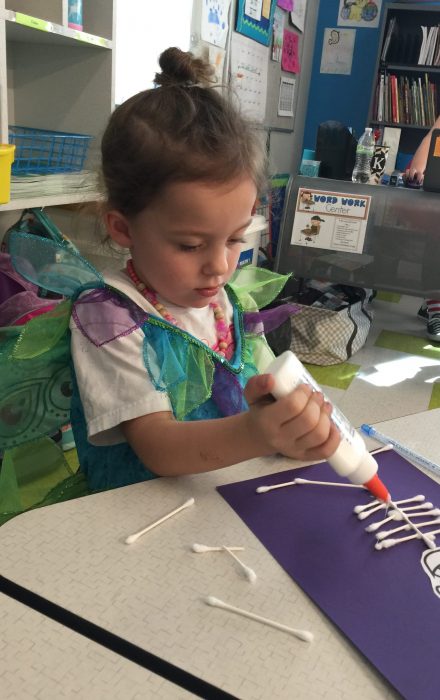 Here's my kiddo working on her skeleton! Very focused! Oh yeah, costumes were allowed today too. 🙂
Happy Halloween!