As you all know by now, one area where our spending has gotten out-of-control is in the realm of food (groceries and eating out). To try to combat the ever-increasing line item in our monthly budget, I decided to return to the cash envelope system. It's been a loooooong time since I've done cash envelopes. But they helped me once, I know they can help me again.
To start, I'm using envelopes for eating out ($200/month) and groceries ($600/month). This represents a HUGE decrease compared to what we have been spending the past few months. Our groceries, for instance, have trended over $1,000/month the past several months. And our eating out/restaurant budget has trended in the $350-$500ish range. Just a disgusting amount of money spent on FOOD!
Reducing down to $800/month for all food (restaurants + eating out) is a big savings for us!
Here's how I've figured it:
$600month/4 weeks = $150/week. Because I want to save a little money for mid-week perishables (we always run out of milk and fresh produce), my goal is to stick to $110-120ish for my big/initial grocery trip. That saves about $30ish for a smaller mid-week grocery run (and/or leaves some wiggle room for the last half week of the month).
I've been doing the cash envelope system for a month now (I started at the beginning of September) and so far, so good. My only "wrench" this month is that I really need to hit Costco to stock up on some bulk items. Does anyone else find it impossible to get out of Costco for under $100?!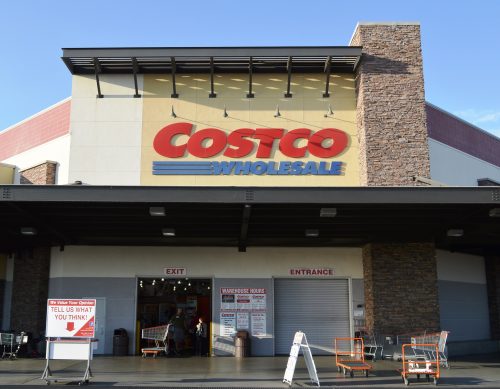 Because of our need for some bulk items, I'm actually going to try to limit our grocery store budget to closer to $100-110/week so I can save the excess for two weeks to have a solid $80-ish bucks or so for a Costco trip. This way, I'll be able to get my bulk stuff but still be sticking to our overall grocery budget!
Do you have a Costco (or Sam's Club) membership? How do you manage to save while buying in bulk?