by Ashley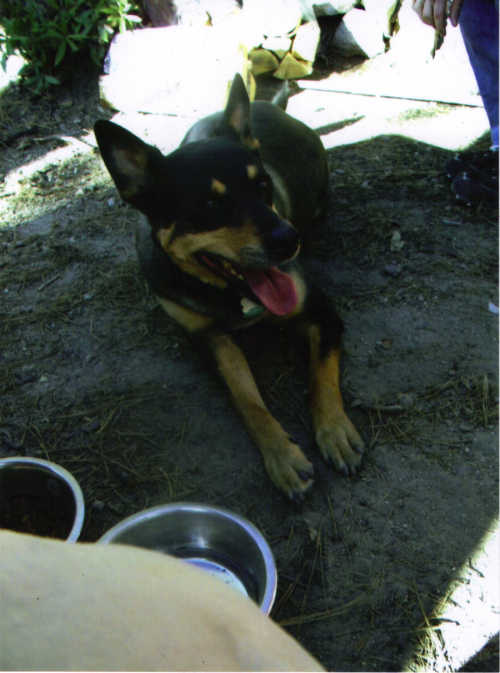 Rocky was our first baby. Years before we ever had human children, he was our "child." Yes, we were those people. The kind who refer to their pets as children. We treated him as well as you'd treat a human child, too. He had it made. Dog parks, long jogs, lots of love and affection. He moved with us cross-country two separate times. He's been with us through thick and thin. Richer and poorer. All that stuff.
Having kids changed all that, to some extent.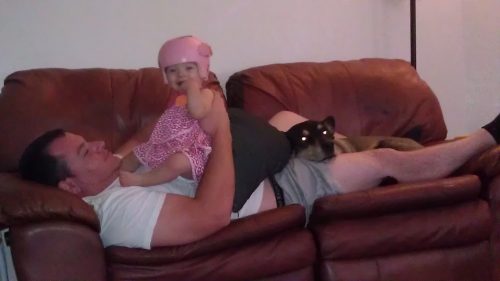 He still remained our "child", but now we referred to him as our "first born." He was no longer the baby, having been displaced by two human babies. The trips to the dog park became less frequent. The jogs became shorter. And, in general, he realized he'd been replaced on the food chain. Our two new human babies came before him. He accepted his new position in the family like a champ. Never acting out or misbehaving. In fact, he rather liked having these two tiny humans running around. Although they were loud and he didn't like having his sleep disrupted at night (omg, they didn't reliably sleep through the night until they were nearly 3!!!), he LOVED all the table scraps he suddenly started gaining access to as the girls would drop things from their high chair trays (or purposely throw down food, on occasion).
Rocky turned 11 this year.
As a large dog, I know his days are numbered as it is. He's starting to slow down, show signs of arthritis, etc.
We took him to the vet yesterday for his routine check-up. He needed updated vaccinations and I wanted to ask about the arthritis issue (I'd noticed he no longer jumps onto our bed anymore. This was a big deal to me as he's slept with us for all 11 years of his life. Yes, I know that's not necessarily healthy and all. Like I said, he's our baby).
But that's not how things went.
During the vet's examination, there were some troubling things about Rocky. His ears looked yellow. His gums, too, looked yellow. I'd never noticed before.
The vet drew labs. $275 later we were headed home. We'd get a call the next day with some news.
We waited and waited and called the vet probably 20 times ("no, labs aren't back yet."). We finally heard back at 6:30pm this evening, after the office had already closed for the day. Rocky's white blood count is perfectly normal (which is good), but his liver enzymes are off the chart. The vet referred us to an emergency vet clinic. She wants us to make an appointment ASAP for an abdominal ultrasound (estimated about $400, on top of the $100 office visit charge). If it's not telling, we may be advised to have a biopsy done (estimated at $1000+).
I'm at a total loss.
After the expensive vet visit yesterday, I was thankful we already had some funds set aside for "pet expenses." We had about $350 in the account, so husband and I joked that we still had about $75 leftover after paying for the vet. "The problem better be $75 or less. More than that, and he's screwed." Chuckle, chuckle.
But now this.
I'm a realist. I always have been. So I'm trying to detach myself from the emotions involved (he's my baby) and think practically. Logically.
He's 11 years old. He's a large dog. He's not going to live many more years anyway. Do we really want to spend up to $1,000+ just on diagnostics?? Then what if we find out he needs surgery? Are we going to shell out the many multiple thousands for that? And he's so old, recovery would be hard anyway. No guarantee he'd even survive surgery. I don't think we'd go that route.
But where do we draw the line? What's the worth of this animal? This member of our family? Our "first born child"?
I'm grateful we've been building up an emergency fund. But does this qualify as an "emergency"? What would you do? How much would you be willing to spend on your dog to find out what's wrong? How much would you be willing to spend on your dog to fix the problem (once an official diagnosis is reached)? What's the most humane option? What's the best option?
I'm leaning toward opting for an ultrasound so we at least know what we're dealing with (at an estimated cost of approximately $500 including the office visit charge). If the ultrasound doesn't give us any indication of the problem….then what? Proceed with biopsy? Decline biopsy and call it a day? Watch him suffer in pain until the end? End it early?
My heart breaks. Obviously I knew he was getting old. I knew this day would come eventually. But still. My heart breaks.
See another Rocky-centric post here.