by Ashley
In spite of some setbacks personally  and professionally, things are still progressing nicely in terms of our debt payments. And I'm happy to announce that as of this month, we are officially over the half-way mark with paying off our car loan debt! Wahoo!!!!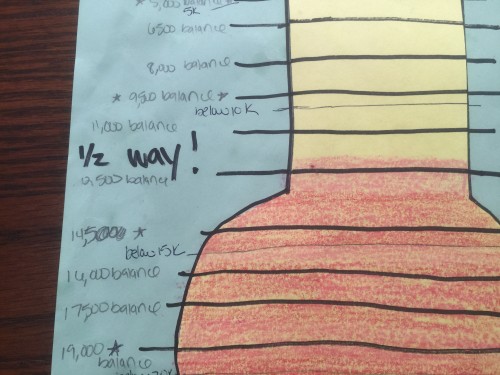 We still have a way to go (over twelve thousand dollars!!!), but remember when things were tight and we stayed in a holding pattern for what felt like forever (literally 5 months where we were in the fifteen thousand dollar range)? We're finally making good progress and it feels GREAT to get to see the car debt thermometer every time I walk into the kitchen! Yay!!!
And in other financial news, I spoke with the business office in my department and had my paycheck corrected to be paid over 9 months instead of 12.  There were a lot of comments from teachers who said they much preferred a 12-month cycle of pay if it was possible. So, initially I was thinking maybe I'd keep it as-is.
But then others pointed out that (1) we're very used to dealing with irregular income; we've been living this way for years! And (2) my car loan is accruing interest NOW! It'd be better for me to get this money up front and try to pay off our debt ASAP (the goal is still to be consumer debt-free before 2016), rather than to get a lesser paycheck every month in exchange for having summer pay. Also, don't forget that hubs still draws an income and he's been the main income-earner in our home for years, so if I don't get paid over summer and we have to rely on his income for those months, we'll still survive just fine. It would certainly mean lower savings and/or debt payments during that time, but it wouldn't cause us to go into debt or not have enough money to survive. Additionally, I have one more piece of good news to report….
I (finally) spoke with the department head and officially received permission to continue working my part-time job (adjunct teaching online)!!! YAY!!!!! So I'll still get paid, at least from my part-time job, and possibly from my full-time job if there are teaching needs next summer. (Side note for those who've asked: now that I've received official permission, I plan to continue teaching my part-time job as long as possible. I know I won't be able to continue forever, especially as my job duties and responsibilities increase with my full-time job. But for now I'm planning to continue at least a year – meaning Fall 2015, Spring 2016, and Summer 2016. From that point I'll reassess to determine if I feel I can continue teaching part-time. I routinely teach 2 classes, but one is much more grading-intensive than the other. So it may be that I ask to drop 1 class but keep the other one for as long as I'm allowed.)
Taking all these factors into consideration, I think we'll be just fine with the 9-month pay cycle, even if it means I'm double-dinged for insurance payments in the Spring and we have to be a little more careful/cautious with budgeting for summer months.
With some of the bummer things I've shared lately, I'm really happy to be able to report some good news!
Have you hit any big milestones with debt repayment lately? Share a piece of good news from your life!