by Ashley
So I've decided to really try to stick to bare-minimums of all non-essential purchases for the rest of this year and see how much traction we can gain on our debt situation (after a full year of blogging – March 2015 – I'll probably slow down on debt-repayment a bit. See more in my post about life balance).
Last time I shared a "making do" story it was about my desk chair. By the way, this month is not looking good for getting either a desk chair or a new-to-us dining table. With our lower-than-average income, all non-essentials have been slashed. I'm still religiously checking out freecyle and the "free" section of craigslist, but so far no luck. We really don't have the funds to buy anything this month though (even for very cheap second-hand stuff).
Well, another area that I've been "making do" with is my hair care. The last time I got my hair professionally done was back in March just before I started blogging here, and it was a disaster.
At first, I was just not getting my hair done because it didn't need it – it had just been done! Then I wasn't getting it done because I couldn't justify the expense to you all (oh you, always keeping me accountable!). Eventually, I wasn't getting it done because it had already been so long, it had almost become a thing of personal pride. Look at me and how long I've gone without getting my hair professionally cut and colored (6 months….but whose counting? ; ))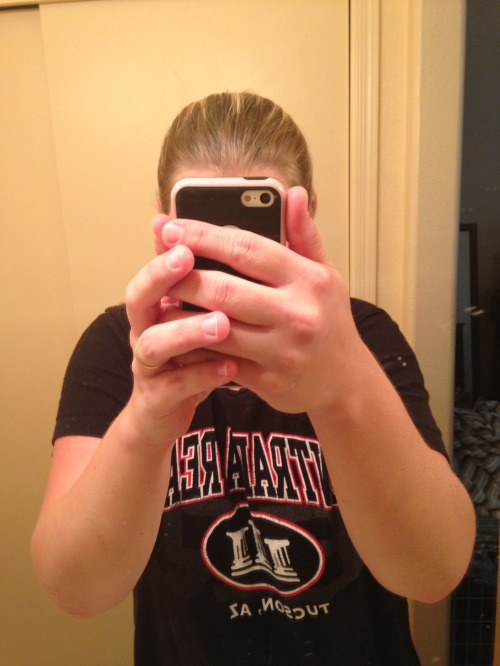 Fun photo of my current hair situation – you can clearly see my roots and new growth here. It's about 3 inches!
And, since I'm all gung-ho and really trying to do the minimalistic thing for at least a year (which would take us to March 2015, at which point I'll hopefully have the car fully paid off!!!!), I've decided that's it. NO PROFESSIONAL HAIR CARE FOR A YEAR. This was not something I started out thinking would happen, but this is where we are now and I'm committed to the cause!
And so I started waiting, oh so patiently, for some hair color coupons. We do not pay for the newspaper, but our community does papers on Wednesdays for free (I think because all the ads are in the Wednesday paper). Sometimes (not always) there are coupons in the Wednesday paper. And so for the past month I have been waiting and checking, Wednesday after Wednesday, for a coupon for hair color.
And finally it has come! (And just this second I realized I probably could have googled a coupon – DOH!!! – oh well, this has been a lesson in patience).
And this week I will add an inexpensive hair color to my grocery cart while at the store. I will color my own hair and will continue to do so for the rest of the year (again – meaning until March 2015, not the end of the calendar year).
My next task shall be learning to cut my own hair. I'm a little scary-excited about it and have already been googling all types of youtube videos and how-to articles. Let it be known, I will NOT attempt to do anything fancy/crazy. I'm talking about doing a simple trim to keep my hair healthy and the split ends away. So don't worry about me showing up with a completely botched hair-job. I will invest in actual hair-cutting scissors but, aside from that, no other financial investment will go into my hair cuts.
I'm pretty excited to do this myself and (a) see if anyone even notices anything different and (b) save all the $$$ that would otherwise be going to hair care expenses!
I have to admit – doing this makes me feel pretty hard-core. Excuse me while I pat myself on the back! ; )
Do you cut and color your own hair? If so, any tips you can offer and/or good how-to websites or videos I should check out???