by Stephannie
When we first became serious about this debt reduction thang we decided that cutting out cable would be an easy first step.  Honestly, it wasn't just about saving money though.  I had become more and more unhappy with the type of things my girls were watching, and the shows my husband and I watched had to be viewed when the girls were out of earshot.  They watched a lot of Disney, which sounds like it would be okay, but the more I paid attention to the Disney channel the more I noticed an unsettling theme.  On all the shows that my girls watched the parents were made out to be bumbling fools that the children could "get one over on".  There are a dozen other reasons I didn't care for cable but the bare bones of it is that it seemed like getting rid of it could benefit us both monetarily and keep our girls from getting messages that we didn't care for.
The cable package we had was pretty basic and cost about $65 a month.  After we got rid of the cable we relied on Netflix and Redbox for our television. There is still stuff on Netflix that I don't want them watching but I feel, somehow, like I'm more aware of what they are watching and can put a stop to things I don't like sooner than I did before.  It's been almost a year of being cable free and it's worked fairly well.  My girls had Disney withdrawals for a few weeks but then settled into the Netflix offerings and were pretty satisfied.
It started out innocently enough.  We'd watch Family Ties or My Little Pony.  Then, the unimaginable happened.  My husband started watching Magnum, P.I..  Do ya'll know how many episodes there are of Magnum, P.I.? A lot.  We watched a couple of episodes every single night for, I swear, at least a couple of months. I'm all for 80's television but, oh my goodness.
Picture this:  it's Easter, a couple of weeks ago, and there are children playing, adults sneaking candy out of aforementioned childrens' baskets, and everyone having a wonderful time.  Then, all the kids start playing with some play mustaches that they got in their baskets.  It's all fun and games until I see this: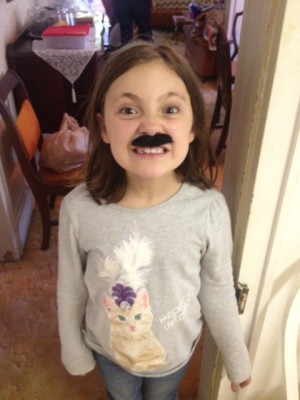 and I hear, "No, I am Thomas Magnum!!!"  Ya'll, my 11 and 8 year old daughters both had mustaches on and were arguing over who looked more like Thomas Magnum.  At one point my oldest daughter yelled "Higgins!" to prove that she was the one that was the most worthy.  The other kids were so confused.
Now I ask you, is it worth $65 a month to have your children turn into Tom Selleck impersonators?  My husband thinks so, and I grudgingly agree.