by Beks
We saved quite a bit of money on our vacation this year. I'm not sure if I want to tell you how, because when I said 'shameless'… I meant it.
Camping allowed us the opportunity to cook our own food. We met up with friends before leaving and shopped for food together. We purchased only what we needed and divided the tab by 6. Each meal? Around $2-$3. We didn't count this as an added expense since we used the money from our grocery budget – and actually spent less than we would have had we cooked for just the two of us at home. We brought a few bottle of wine and jugs of water from home. We did go out to dinner one night – to Carl's Jr. – and we counted that in the $38 total spent.
Showers were 25 cents for 2 ½ minutes. I was more than willing to pay for warm water but my frugal husband showered in the cold shower by the beach for free. I'm not going to lie, it looked a little odd when he washed off his Irish Spring soap while surfers waited to rinse their boards.
When we booked the campsite 6 months ago, my husband cut some hefty branches off our trees. He stacked them along a shady side of our house for the last few months and we used them to fuel our campfire each night. People asked us why we were storing firewood when we don't have a fireplace and we got more than one weird expression when we told them it was for our camping trip… in six months. But we saved a fortune by using a little elbow grease and cutting our own firewood. We didn't have to buy any!
When it came to camping supplies, we didn't have much. We own a tent and a portable grill but that's about it. My brothers fiancé's family is an experienced group of campers. Rather than purchase new items, we borrowed their shade tents, pots, pans, cups, games, and portable tables. One rule about borrowing – make sure you return the items cleaner than when you first received them and if you borrow something that requires any sort of fuel, fill it up before returning it. Also, return the item within a day or two after you come home.
The campsite was over an hour from our home. I wasn't prepared for an added gas expense and was surprised when I realized… I didn't have to be! We brought our bikes and traveled solely by 'pedal power' after we arrived. The truck stayed parked at the campsite and my car stayed home the entire week. With both of our cars parked, we saved money on gas!
So what did we spend the $38 on?
$18 on a game of golf at a beautiful municipal course.
$10 at Carl's Jr. (I ordered a kids meal and he had a sandwich).
$10 on a t-shirt from an outlet store.
Sure, camping isn't my vacation of choice, but I had a great time and spent far less money than I have ever spent on a weeklong vacation by the beach.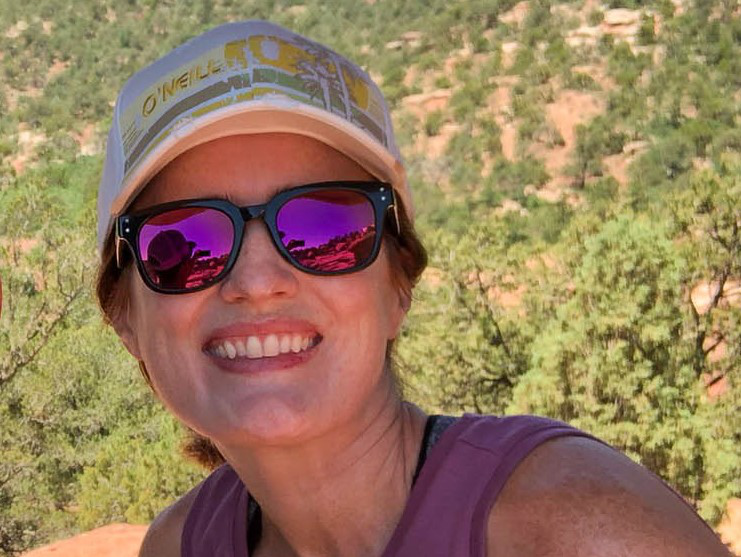 Beks is a full-time government employee who enjoys blogging late into the night after her four kids have gone to sleep.  She's been married to Chris, her college sweetheart, for 15 years.  In 2017, after 3 long years working the Dave Ramsey Baby Steps, they paid off more than $70K and became debt free.  When she's not working or blogging, she's exploring the great outdoors.