by Tricia
Back in March, I was pretty fed up with our electric bill. It was getting closer and closer to the $100/month mark. For us, that is too much money to power our smaller house.
What I did was install CFL light bulbs in almost every light socket in our house. I've heard so many good things about them saving money that I decided to try them. I also unplugged a freezer in the basement that we weren't really using (and it's quite old). The first bill that we got was discouraging because it was $91. I shouldn't have jumped the gun before declaring my dismay. The changes with our bulbs and the freezer ended up making a huge difference.
Take a look at this graph. It shows the average kilowatt hour per day that we use. The purple line is last year and the green line is this year.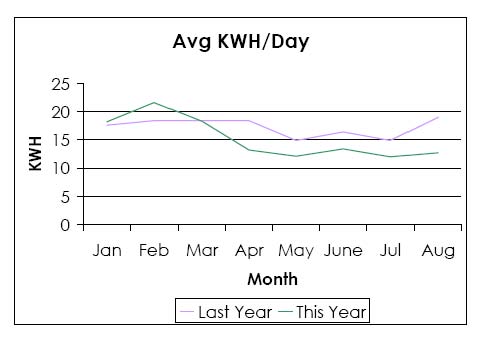 As you can see, March was the tipping point where our electric usage per day took a plunge and we were using less kilowatt hours per day. I just needed to wait a little bit for the next bill to arrive to see the results. Even then, I wasn't sure it was for real so I waited before announcing on here. I didn't want to jump the gun again.
After 5 months, our daily electric usage has been staying well below what we were using during the same period the previous year. A few kilowatt hours saved on a daily basis may not seem like much, but it makes a huge difference on a monthly and yearly basis. In fact, the latest electric bill I received was for $57! Yay!
I'm a CFL light bulb believer! Oh, and a believer in updating very old appliances or unplugging them if you aren't using them 😉