by Ashley L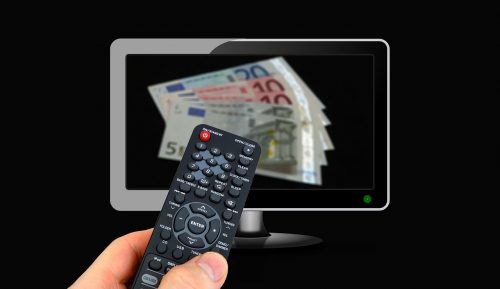 I'll begin with addressing my own concern and letting you know that I have cable. I have U-Verse and wish that I didn't. My cable bill in my previous house was $100+ for 3 cable boxes and internet as a bundle package. Yesterday, I searched for cable/internet packages for my new house-hack and was offered $165 for 4 tv boxes and internet. That's more than my student loans, more than half of my car payment, and entirely, utterly ridiculous. I know that we can all also find tons we would do with our money if it weren't tied up in a cable bill.
I have cable only because I am renting rooms in my home to other people and marketing housing that comes with Hulu Prime, rather than cable, would probably sound a bit odd to renters. If it weren't for that reason, I would not enter a cable contract again. If you are considering ways to save larger amounts of money, here are my pros and cons about cable:
I need to save money
I don't want to save money, I need to save it- which means that I need to make some sacrifices. The more intentional that I become about my finances, the more I understand the value of making larger monetary cuts. For example, cable can easily cost me, at the least, $1200 a year. I could significantly decrease my debt with $1200 a year, buy assets or make investments, or maybe even take a quality, week-long vacation abroad- all by eliminating cable. When I examine all of my expenses, cable gets chopped.
I don't watch many channels
Confession: I think I watch what is considered bad TV. My TV is probably stuck on only a few stations, including Bravo TV for Real Housewives episodes, the Gameshow network for Family Feud, and FX since the American Horror Story season has started again. (Are there any other junk TV watchers out there 🙂 ). My TV screen pretty much never even sees any other stations. So I don't need to pay for 250 channels, many of which are seldom viewed. Do you know about many channels you watch? If so, do you feel that the number of channels are worth the cost?
Don't watch much live TV
I think that cable still has a major advantage over options such as HULU, Roku, and Amazon Stick because it offers consistent and quality live and local TV programs like the news and sports games. If you are a big sports fan, this may be something to consider and is what my boyfriend is still debating. Missing out on local programming does not bother me much because I opt out of watching the news and don't need a play by play of sports games. My boyfriend has pulled up streaming for NFL games on our Amazon Stick, and I must admit that there was a noticeable difference in the quality. However, since I'm not the biggest sports fanatic, watching a sub-par football game without cable is worth the sacrifice.
Technology can frustrate me
If you substitute cable for an option like Amazon Stick, then you may spend some time programming the stick. My boyfriend programmed the amazon stick at his house and it took about 15 minutes. Although this is not necessarily a long time, the task seemed tedious and I did not want to do it. If technology like this can frustrate you as it can me, you may want to take this into consideration. (There are options of purchasing jail-broken Amazon sticks that already come programmed that I have seen on resale sites like Craigslist, but I cannot vouch for this as I have not done it).
Is is just me, or are HBO and STARZ pretty bad?
I recently stayed with someone who had HBO and Starz and browsed these channels for a few days. I think that HBO showed that yawn-worthy horror movie "The Boy" 4 out of the 5 days that I turned to it. I would turn to Starz once a week for the show "Power", but that's about it. I seldom saw programming on these stations that piqued my interest and simply didn't think its worth the extra payment in a cable package. (Plus, I believe that most of the movies and programs shown on these stations are on Amazon stick anyway.)
Weighing the value of my entertainment and time
I recently had some spare time, and one of my goals was the finish a new season of a show that I started watching (and now I've gotten hooked on the Good Doctor and have given myself a new addiction, great!). I say this to illustrate that I enjoy laying on my couch and watching TV and value this relaxing time. However, I've recently given thought to how much more productive I would be if I substituted some of my TV watching for other time fillers.
As a teacher, I firmly believe that we should never stop learning. Since I'm serious about my financial goals, I want to time reading books about finance rather than watching TV every afternoon. Since I want to invest in more real estate, I could spend time going to conferences rather than binge Mr. Mercedes all weekend long. I thought about taking a cooking class at one point, and could put the money saved from cable into my cooking class. So I don't believe that $1200 a year is worth all of the other things that I could be doing with money and do not want to pay that much for this form of entertainment.
My verdict
There are several reasons why someone may or may not choose to have cable, as well as many alternatives. The amazon stick is the alternative that I am familiar with and would chose if I could eliminate cable. This could result in a difference of a $1200 cable bill per year or a 1-time $100 purchase fee and the yearly cost of WiFi which could be about $360 a year ($30 a month). The cost of cable does not support my financial goals and I would eliminate it if I could, as I think that an alternative would be best for me. Does anyone use any cable alternatives? How do you like them and how do they save you money?