"Giveaways" Archive
There is plenty of information which can be found online about the possible options that you have if you find that you have run out of money, but you still haven't received your paycheck. This is important information which may be able to help you survive during these uncomfortable circumstances, and you should consider all of your options. The advice for those short on cash before their paycheck arrives is usually along the lines of the following:
Contact friends and relatives that may be able to help you out.
Sell things you no longer need or use.
Pawn some items.
Look for quick cash earners like babysitting.
Cut back on everything except essentials.
Contact creditors and see if you can get a delay on payments.
Collect and recycle scrap metal.
Use any gift cards that may be stored away.
Take out a title loan.
Get a cash advance on your credit card.
These are just a few of the common tips that people suggest. Your actual options will greatly depend on your personal circumstances and how much time there is until the next paycheck arrives. What isn't often expressed is the things that you shouldn't do when you find yourself in this situation, and the things you shouldn't do may be far more important than the things that you actually do. Here are a few of the things that you want to avoid doing when you find yourself not having enough before the end of the month:
Don't Be Relived When The Check Arrives
Most people are so happy and relieved when the paycheck arrives that they stop thinking about everything and simply start living like there was never an issue the week before. This is absolutely not the thing to do. The fact that the situation came about in the first place means that there is a major financial emergency which needs to be addressed. Not having enough money at the end of the month is only a symptom of the underlying problem. The reason why this happened need to be addressed, and addressed quickly to avoid the same situation happens again.
Don't think You Have Your Full Paycheck To Spend
When the paycheck does finally arrive, don't assume that you have the full amount to spend. When you were short of money before the paycheck arrived, there is a chance that you had to borrow money or deplete your stockpile of food. Whatever costs you had to incur to make ends meet, they need to be repaid right away. This means that your actual paycheck will be less than usual. If you fail to take these costs into account, the greater the risk that you'll find yourself in a revolving "can't make it to payday" situation.
Don't Assume Things Will Get Better
Don't make the assumption that things will get better and there won't be a problem next month. That assumption will almost always be wrong and create a situation where you find yourself in even deeper financial problems. Instead, address the issue head on and come up with a plan of attack by creating a better budget and figuring out a way to increase your income through side ventures before you find yourself right back in the same place. Things rarely get better unless you take an active role to ensure that they get better.
Don't Make What You Did Your New Emergency Plan
Once you have survived once not having enough money until your paycheck arrives, you begin to form a basic plan to enact if such a situation should occur again. This is a terrible idea. The fact is that the more times you have to make due without money before your paycheck arrives, the more difficult it'll get, and the more money you'll end up losing in the process. Just because you were able to survive once doesn't mean that it's a good idea to try to do it over and over again. Don't let the situation become a monthly or bi-weekly habit. Instead, take the time to figure out a plan and make the difficult choices so that you never run short again before your paycheck arrives.
More often than not, avoiding some common actions that many people take when they first find themselves in a "no money at the end of the month" situation can go a long way to helping you not get deeper and deeper into a financial mess. So while it's important to research all of your possible options on how to survive such a situation, don't fail to take the often difficult, but necessary, steps afterwards to make sure that it doesn't become a common occurrence.
To help those that might find themselves in a tight spot this holiday season, we are giving away $100 as part of our ongoing series of themed personal finance giveaways. There are plenty of ways to enter and you will have the opportunity to learn about a number of other personal finance blogs that may be suited for your current needs. At the very least, leave a comment about what you have done (or would do) if you found that you didn't have enough money before your next paycheck arrived as this may be of great help to others that are going through this situation.
a Rafflecopter giveaway
Do you want to know what's the biggest secret of the TV extreme couponers who are able to save incredible amounts of money on their shopping bill? The biggest secret is that most of the savings that they get doesn't actually come from the coupons that they use. All those coupons that they clip from the Sunday papers, print online from sites like Grocery Coupon Network and store away in complicated fashion in a huge coupon binder aren't actually where most of their great grocery bill savings come from. How do I know this? Because at one time, I was one of them. The fact is that even if you hate coupons and you know that there is no way that you would ever use them, you can still cut your shopping bill by half or more by simply changing the way that you shop.
The real secret that the extreme couponers use is that they only shop for the very best deals advertised at the stores each week. In other words, they don't shop for ingredients for the meals that they decide they want to create each week, but instead they plan their meals from what they have in their pantry and freezer. Their meals each week are determined by what food they already have in their house. This may see like a minor difference, but it has a huge impact on the amount of money you will spend on food each week depending on which way you shop.
By cooking their meals from what they already have, their shopping list can be devoted to buying only the very best deals the store has to offer each week. This allows them to purchase food for a fraction of the price that it would normally cost. By simply shopping the best deals, they never pay full retail price for anything at the grocery store. Since most loss leaders and sales allow consumers to buy the product for half or more off its normal retail price, their grocery bills are tiny compared to most. They then use coupons as an added bonus that takes the price of the product from 50 % off down to 80% or more off its normal retail price.
That's it. That's the super-duper hidden stealth secret to their shopping savings. By simply changing the way that you cook your meals, you (or anyone) can save 50% or more off your grocery bill even without using any coupons. Take a moment to let that sink in. You can reduce your shopping bill in half if you simply change the way you decide what meals you are going to have each week.
Now, actually changing this habit will take some time and effort, but it's well worth doing. Cooking meals with what you have on hand often takes a bit of creativity when all the ingredients you usually use may not be available. It also requires that you plan ahead and are a bit more organized than usual with your meal planning. If, however, you can succeed, you'll be amazed at how your grocery bill shrinks from what you used to be paying. I highly encourage you to give it a try, and I think you'll be astonished at how simply changing the way that you shop can make such a dramatic difference on what you pay at the grocery store.
This is probably the one thing that I now do which saves me the most money when grocery shopping. What are some of the methods you use to reduce the amount you pay each week at the grocery store?
As part of our ongoing giveaway series, this time we are offering a chance to win $100 in cash. Think about how far that could go in combination with this newly learned shopping secret that you just read. I wish you the best of luck in both the contest and in lowering your grocery bills:
a Rafflecopter giveaway
When it comes to personal finances, and especially trying to get out of debt, we sometimes focus so much on the money, or lack thereof, that we forget to appreciate the little things that are around us. The funny thing is, the reason that we want to get out of debt is so that we can appreciate those little things without the worry of the debt over our heads. I think it's important to step back sometimes and realize that even with all the stress that comes with trying to dig your way out of debt, there are huge number of things to be thankful for as well. They are around us on a daily basis if we just take a little time to think about it and appreciate them. I am writing this while I eat lunch, and here are 10 things that I was thankful for this morning:
Indoor Toilet
I don't think that you can ever really appreciate how wonderful an indoor toilet is until you live in a place where they don't have one. If you think that crawling out from under your covers to walk to the bathroom in your house on a cold morning is terrible, it's 100 times worse to have to actually walk outside to an outhouse. I know this because I was in such a situation for approximately 3 months while living overseas. Ever since that stint, I have always been extremely thankful for all indoor plumbing each morning when I have to relieve myself.
Food
I still think that it's a complete disgrace that in a country that is as rich as ours, there are still people who go hungry. There are many more who don't live in the United States who have no idea when or from where their next meal is going to come. I am extremely thankful that when I get up in the morning, not only do I have food, but I have a variety of choices of what I want to eat. I think it's important to remember that something that most of us take for granted is not the case for many in the world.
Hot Water
I must admit that one of my everyday splurges is a hot shower. I just really, really like them. The fact that I can have one on a daily basis is something that I am extremely thankful for.
Internet
I make my living on the Internet, and being able to do so gives me a lot more freedom than I could have in most other jobs. I am basically a digital nomad meaning that I travel full-time. As long as I have an Internet connection, I can work anywhere. This allows me to travel to visit family, friends, and explore many places that I have always wanted to visit. It's hard for me to imagine a more perfect job, and it would not be possible without the Internet.
Surprises
I love being surprised, and I find these wonders in nature all the time. This morning while I was taking my morning walk, I came across this red tail hawk perched in a tree looking over an open field: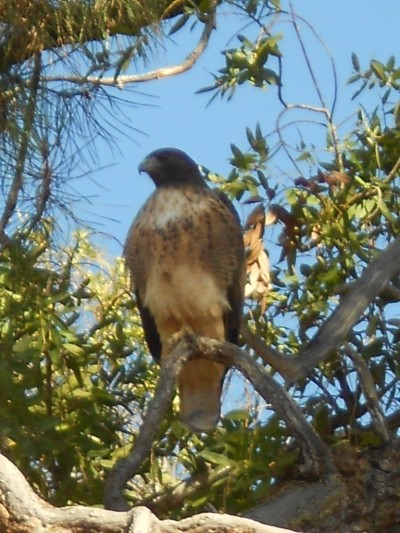 It was a wonderful morning surprise, and I spent a good half hour just watching him. It's these little unexpected things that happened which alter my daily routine that makes me look forward to each and every day.
Central Heat
I lived for over 10 years in Japan in houses that didn't have central heat. Hearing the furnace kicked on in the early morning, and knowing that when I crawl out from under the covers the house will already be warmed is a wonderful feeling. Sitting up late at night working on the computer comfortably, instead of huddling next to a small space heater is a wonderful feeling. For anyone who has had to live in a house without central air or central heat, they can probably tell you how wonderful it is when they have it.
Sunshine
This morning when I went out on my daily walk, the air was crisp and cold, but the sun was out shining brightly. There's something wonderful about a sunny day in all its brightness. It's such a wonderful feeling when the warmth of the sun's rays breaks through the crisp coldness of the day. At one point, I stopped and turned my face directly to the sun and just stood there with my eyes close feeling the warmth of the rays hit my face. It was an amazing feeling.
Chance Meetings
As I was looking at and taking photos of the red tail hawk, parents with their children came strolling by. I would stop them and point toward the red tail hawk so that they could see it. One of the little boys that stop was quite curious and asked me a lot of questions about the bird, many of which I could answer, but also a lot that I couldn't. As he was leaving, he thanked me for telling him what I did know about the hawk, but also said in the cutest voice that I really needed to study up a bit more so that I could answer questions that children had. I couldn't help but smile at his earnestness, and I put learning more about red tail hawks down on my list of things to do. It was a wonderful chance meeting to have.
Overall Good Health
overall, I'm in relatively good health. I am able to do most of the things that I want to, and I can live a fairly active lifestyle. I think I appreciate this even more these days because I recently had a friend diagnosed with chronic heart failure. Her heart is currently only working about 20 to 30% of normal. Many of the things that she could once do she is no longer able to, and I know that this is something that could happen to any of us at any time. That gives me just that much more appreciation when I am able to take my daily walks and hikes.
Life
If you think about it, each and every one of us has already won the lottery. The mere fact that we exist is extraordinarily lucky. The fact that we were born where we are makes it that much more so. Just the chance to participate in this extraordinary existence is a pretty amazing thing, and something that I'm very thankful for on a daily basis.
I'm sure that the list that you would create about what you are thankful for would be different from the one that I just listed, but I'm certain that you also have a "being thankful" list within you, whether you have thought about it much recently or not. I hope that you remember to take a few minutes each day to remember all those little things you are thankful for, and remember that they exist no matter what your financial situation
For the second giveaway this month, we decided to have a "giving thanks" theme. Even if you don't enter any of the other options for this giveaway, I hope you will least take the time to share with us and comment about a few things for which you are thankful. Doing so will give you the opportunity to win a bit of money!
a Rafflecopter giveaway
We have decided to make a little change to the bimonthly giveaway this time around and instead of giving away a number of small amounts, we are instead going to give $100 cash to help someone start (or reinforce) their emergency fund. When it comes to getting out of debt, one of the most difficult aspects many people have is getting that emergency fund in place, but it really is an important factor to succeed in your long term financial goals. There are plenty of ways to enter and I truly hope that we can help one of you get that emergency fund in better shape:
a Rafflecopter giveaway
Of course, you should stop with entering this giveaway. Most people could probably benefit by spending a bit more time making sure that their emergency fund is adequately funded. Are you one of those people?
I found that the biggest hurdle for me when I needed to create my first emergency fund was starting it (and then consistently adding to it). When the main goal is to get out of debt and there are so many other bills and expenses which need to get paid, it's easy to ignore the emergency fund. My guess is that this is the case for many people. The problem is that you end up ignoring the emergency fund at your own peril, and Murphy's Law is bound make you regret not making it more of a priority. here are a few things that you should do today if you are one of those that has been ignoring your emergency fund:
1. Decide a emergency fund goal amount. My fist emergency fund was $500. Once you reach that minimum, set a new goal. Then another until you reach the point where you feel confident that your emergency fund is enough to withstand any possible emergency.
2. Figure out a way to reach that goal as quickly as possible. I funded my first emergency fun by selling stuff around the house. Chances are you are going to have to go beyond your regular income to make this happen, but that shouldn't be a reason to give up. Yes, it will take effort, but having it in place will make reaching your financial goals so much less stressful.
3. Don't forget about it. The emergency fund is something that should be added to on a consistent and regular basis. The more you are able to fund it, the more secure you will be in reaching your financial goals.
I have been quite thankful that I have had an emergency fund in place a number of times in my life. It includes one time when my car decided to break down in the middle of nowhere and required a several hundred dollar tow to get it to the nearest gas station (this was even with AAA). Or the time I had a tooth broken at the nerve during a basketball game and dental insurance that still left me with a $500 dental emergency bill. In both cases, the payments were painful, but I had the money to take care of them right then and there without stressing about how I was going to come up with the money.
Do you have an emergency fund and have you ever had to use one in the past?
If you are a blogger and would like to participate in future giveaways, you can get more information here. It's totally free, and it will help your blog improve its social media accounts.
It's that time again — your chance to win a little money to help pay down debt or put it toward one of your other financial goals. We have changed things up a bit with this one, this time offering one cash prize of $25 while also offering five smaller prizes of $5. There are a lot of different ways to enter including sharing your tips in the comment area on how you save money.
a Rafflecopter giveaway
So, how do I save money?
I would argue that one of the best ways to save money is to take the time to get to know yourself well and be honest in that assessment. While that doesn't sound like a normal piece of advice when it comes to saving small amounts, I have always found that the better you know yourself, the more opportunities you will have to save money.
While I wish I were perfect and could refrain from all the things that I know I shouldn't do, the reality is that when it comes to certain things, I lack the willpower I have in other areas. Knowing this allows me to make adjustments so that I can compensate for these weaknesses.
One of my biggest weaknesses is snacking. I don't know why, but if there is junk food around, I will snack on it. And snack on it. And snack on it some more. The funny thing is that if the junk food isn't there, I'm OK and can get by fine. This has taught me to keep none of it around.
The problem arises when I see a great deal on one of my favorite snacks. The automatic temptation is to buy the snack in bulk since it's so much less expensive than buying it individually, but the problem is that if I buy ten at $1.00 each or one a $2.00, I will still eat them all in one day (seriously, my friends and family call me the human vacuum cleaner). So while buying items in bulk when they are on sale is great advice for saving money for most, it's terrible advice for me when it comes to snacks.
I now know myself well enough to know this and so I no longer buy snacks in bulk. I don't even buy them on a regular basis just to have one around. I only buy them when I have the desperate craving that will get me to get up from what I'm doing and go to the store to get one. While it costs me more on the individual basis, it saves me more money than buying in bulk and keeps me a lot healthier.
Now, I know this is not an issue that most of you have, but I am pretty sure that you have your own little quirks and imperfections where you know you spend more than you should. I have plenty and I hope I'm not the only one. Denying them won't solve the issue, but acknowledging them and looking at them realistically can go a long way to help find a solution to the issue. I find that being honest with myself and my imperfections has been a wonderful way to save money in a wide variety of areas of my life.
What are some of the ways that you are able to consistently save small amounts of money?
Last chance to enter!
I'd like to thank everyone who participated in the initial Debt Snowflake Giveaway, and congratulations to the nine winners (one person was randomly picked twice for different entries). Overall the reactions were positive and most felt that this giveaway would be worthwhile on an ongoing basis. With that in mind, we will continue with this twice a month through the end of the year at a minimum, and further if there is still interest from that point. Thus, we have another contest with ten prizes of $5 each to give away.
a Rafflecopter giveaway
For those that aren't familiar with snowflaking, it's a concept that was created to compliment the debt snowball (it's a way to arrange debt repayment to better your success with five common ways to do so depending on which works for your particular situation). Snowflaking was a concept created to add money to the debt snowball by earning small amounts of money in your spare time. Snowflaking doesn't have to be exclusive to debt reduction, but also can be a great way to create an emergency fund or increase the funds in a bank account. The only limit that you have to snowflaking is your own imagination, and entering the above giveaway contest would be one simple way to do so.
One of the fun things about snowflaking is that it can end up being kind of weird the way you eventually settle into making money on a regular basis in your spare time. For example, for some reason, I'm good at finding coins (plus I tend to walk a lot more than most people) and thus add over $100 each year to my bank account from the dropped money I find.
I also lived in Japan for a number of years and became sort of an unofficial expert on pre WW2 antiques (I liked to rummage through the flea markets when I lived there) which has proven quite valuable back here in the US. Whenever I see a garage sale, I'll stop to see if there are any hidden treasures, and I usually can count on several hundred dollars in profit each year from the finds that I make.
I have friends that make money gathering seaglass at the ocean while another who fashions soda cans into jewelry to make a little extra on the side. The options really are limited only by your creativity, and the extra money made can really add up over time. While entering this contest (and ones like this) is one way to snowflake, you should be able to come up with plenty that you enjoy to do when you have a bit of spare time.
If you are a blogger and would like to see your blog as one of the entries like those above in future giveaways, you can learn more here. It's a great way to spread the word about snowflaking and give your readers a chance to win a little money.
I decided the best way to draw a winner was to write all the numbers on scraps of paper and draw from a cup.
Sounded like a good idea until I realized there were 105 of you.
I now have Carpal Tunnel Syndrome from all the writing and cutting. ; )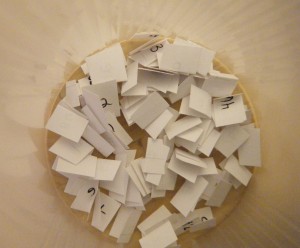 I asked my husband to draw a number and the lucky one was #76 – Mandi Bartz!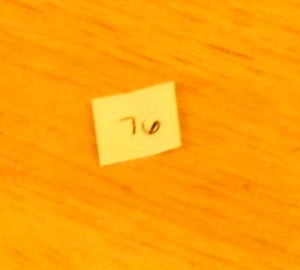 For all those who didn't win, I encourage you to try E-mealz for one week and see how you like it. They have free sample plans for all the menu options.
Just to clarify, the plans are for dinners only – but my husband and I always have enough left over from our 'Low Fat Any Store for 2' to take leftovers for lunch the next day.
**I paid for our E-mealz plan. E-mealz is not paying me to advertise for them. I honestly love their menus, love that I don't have to think about dinner anymore, and love how much money they save me. If they ever go out of business, I'll cry uncontrollably.**
If you didn't win but still want 10% off, click the link/photo below and type in the code: savemoney
My Debt
Large Graph
Current: $31,490
Paid: $66,611
Original: $98,101
Emergency Fund: $1000
IRS Savings: $
Broken Down:
CC #1: $0 ($64)
CC #2: $0 ($240)
CC #3: $0 ($650)
CC #4: $0 ($785)
CC #5: $0 ($1,500)
CC #6: $0 ($1,886)
CC #7: $0 ($1,984)
CC #8: $0 ($2,135)
CC #9: $0 ($7,145)
CC #10: $12,570 ($14,561)
CC #11: $0 ($24,388)
Credit Line #1: $0 ($182)
Credit Line #2: $0 ($182)
Auto #1: $0 ($16,579)
Auto #2: $0 ($25,819)
Cons. Loan: $18,920 ($20,000)
Finance Blogging Buddies
Supporting Sites